Among Brothers video and UK tour
aaamusic | On 14, Aug 2011
AMONG BROTHERS UK TOUR AND VIDEO OF RADIO 1 APPEARANCE

Watch the video here: http://www.youtube.com/watch?v=ZWKlZSNpYkU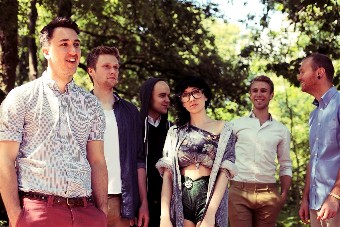 They fuse electronic rhythms, theatrical chants and percussive flourishes to create vibrant pop-influenced arrangements anchored by narrative themes. Meeting whilst studying at Cardiff University, the band quickly found common ground in a love for Cardiff's bubbling underground music scene, shortly going on to form Among Brothers.
"The most exciting thing about Cardiff this spring" – The Fly
Their debut EP, Homes, was released earlier this year on their own label, Barely Regal Records. Homes features the song 'Sam, Isaiah and the Wolf', which was chosen by Bethan Elfyn as one of her top tracks of 2010, alongside bands like Warpaint, Foals and Islet. They have also featured on The 405's compilation: 'Heroes Of January And February 2011′ which also featured Toro Y Moi, Vessels and Munch Munch.
Among Brothers were described as "one of the festival highlights" by SWN organiser John Rostron, after playing their Barely Regal stage at SWN Festival 2010 to a sold out venue. This year, the band has gone on to support prominent bands such as Jeniferever, Hjaltalin, and The Thermals. Shortly after returning from their Spring 2011 UK tour, Among Brothers played the Introducing stage at the Radio 1 Big Weekend in Carlisle. This led onto their song 'My Head Is A Vessel' being selected to feature on the BBC Radio 1 playlist in June this year.
"Homes is a beautifully styled and thoroughly emotive EP" – The 405
"One of the festival highlights" – John Rostron, SWN Festival organiser
September 2011 sees Among Brothers play End Of The Road festival, alongside artists such as Laura Marling, Mogwai and Wild Beasts. Shortly following the festival, the band will set out on their second UK tour of the year to promote a brand new single. You can catch the band live in Sept on the following dates –
13 – Southampton, The Joiners / 14 – London, Barfly / 15 – Brighton, The Hope / 16 – Cardiff, Buffalo Bar / 17 – Bristol, Start The Bus / 20 – Leicester, The Musician / 21 – Chester, The Laugh Inn / 22 – Sunderland, The Independent / 23 – Stockton-on-Tees, Ku Bar / 24 – Sowerby Bridge, Puzzlehall / 25 – Castleford, The Xcape / 23 – Cardiff, SWN Festival
For more information go to:
www.amongbrothers.co.uk / www.twitter.com/amongbrothersuk / www.facebook.com/amongbrothers