Jacqui Dankworth – It Happens Quietly
aaamusic | On 14, Aug 2011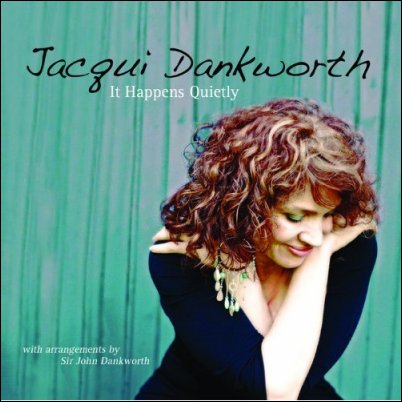 "It Happens Quietly" is the stunning new album by Jacqui Dankworth and is dedicated to her father, the legendary jazz musician Sir John Dankworth who sadly passed away during the recording of the album. None the less Sir John left his mark on "It happens Quietly" as he contributed greatly to the album.
"A Nightingale Sang In Berkeley Square" opens the album and immediately sets the tone- Jacqui's vocals are clear and crisp, the accompaniment is well arranged and beautifully produced, I can immediately tell that this album has been very carefully put together. "The Man" a haunting song co-written by Jacqui and her father is one of the highlights of this album. Sir John features with an elaborate saxophone solo that elevates this song to a whole new level.
Like many jazz albums this record contains many old and well loved songs such as "In The Still of the Night" and "Last Night" which Jacqui manages to make her own. Her consistent vocal style and the musical arrangements allow these songs to blend in perfectly with the original music on the album.
After a long and distinguished career in which Sir John Dankworth featured on hundreds of recordings and composed countless pieces it seems fitting that this is his last work, his love for music and talent definitely lies with daughter Jacqui. For any jazz fans "It happens Quietly" is as good as it gets- rich musical arrangements, luscious orchestral accompaniment and of course the smooth vocals of Jacqui who proves her vocal ability in every single song.
Author: Orna Lyons