Noel Gallagher – The Death Of You And Me
aaamusic | On 15, Aug 2011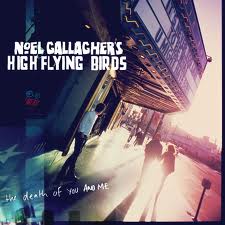 Since Oasis split in 2009, Noel has been seeking a new direction.
The Death Of You And Me, Noel's debut single from High Flying Birds, is not about disagreements with his brother Liam, more an adventure with blues and classic Americana.
This warm, romantic tale is about a man who suggests to his love that they should run away together to be free from the worries of ordinary life and do something more exciting.
There's a gentle acoustic guitar strum together with rhyming couplets and introspective lyrics. Contrasting with this is some assertive drumming, a synthesiser and a piano. Soulful trumpets, sax and a trombone enhance the overall feel of the track as it develops.
The song is quite mature, catchy and more orchestral but not a repetitive echo of the traditional style of his previous band. Overall, it's quite pleasant and jazzy, though there's nothing spectacular and fans may be looking for something more daring and ambitious.
The intriguing Mike Bruce directed video for The Death Of You And Me was filmed in the desert landscape outside Los Angeles. The inconclusive ending, 'To be continued…' will guarantee that we're kept in suspense.
The Death Of You And Me will be released on August 21st and the album on October 17th.
AuthorAnthony Weightman