Soul Rebels Brass Band to release new album, plus videos of their escapades
aaamusic | On 15, Aug 2011
In the leadup to their new album,  details below, videos showing the energetic, passionate nature of Soul Rebels Brass Band have been posted, including one on London's very own Golden Jubilee Bridge:

SOUL REBELS BRASS BAND
UNLOCK YOUR MIND
Release Date: 12th September 2011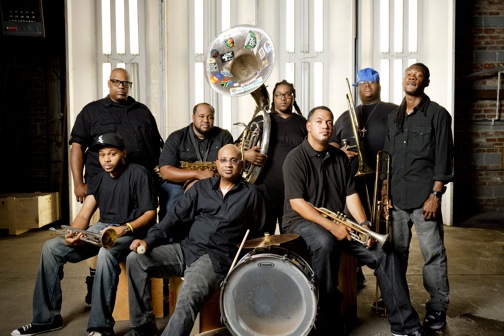 "Utterly uninhibited hip-hop hybrid, not to be missed" Rolling Stone Magazine
Soul Rebels Brass Band announce the release of their new album Unlock Your Mind, a brilliantly energetic and upbeat collection of tracks that takes the New Orleans marching band tradition and blasts it into the 21st Century with a heady mix of soul, R&B, funk and hip-hop.
This new song-driven studio effort includes guest appearances by Cyril Neville, Trombone Shorty and Meters guitarist Leo Nocentelli.  Described as "the missing link between Public Enemy and Louis Armstrong" by the Village Voice in New York, the group combine top-notch musicianship and songs with grooves that celebrate life in time-honoured New Orleans style.  Their strong connection to their hometown led to them being featured in the season finale of the critically acclaimed HBO TV series Treme, which follows the lives of the city's residents as they attempt to recover from the aftermath of hurricane Katrina.
The Soul Rebels Brass Band was formed when Lumar LeBlanc and Derrick Moss, previously members of New Orleans' iconic Dejean's Young Olympia Brass Band, decided they wanted to play the new, exciting music they were hearing on the radio while respecting the tradition they loved.  "We wanted to make our own sound without disrespecting the brass tradition," LeBlanc recalls, "so we knew we had to break away."  They found a stylistic middle ground when they spun off and formed a band of young, like-minded local players from all over New Orleans
Soon, the Soul Rebels' contagious originals and updated takes on standards won them a loyal local audience, and they began rocking some of New Orleans' most beloved live music venues.  A chance gig opening for the Neville Brothers got them a real start – and an official name.  It was youngest brother Cyril Neville who first called them "Soul Rebels," a good name for a band that strived to incite positive change in its treasured musical heritage.
Since those days, the band has settled on an eight-piece line-up, building a career around an eclectic live show that harnesses the power of horns and drums in the party-like atmosphere of a dance club.  While touring the U.S., the Soul Rebels have shared the stage with notable artists from many corners of the pop and jazz worlds, including Arcade Fire, The Roots, Bootsy Collins, Robert Plant & Jimmy Page, Counting Crows, Green Day, James Brown, Roy Hargrove, Allen Toussaint, Chuck Brown, Terence Blanchard and many more.  Averaging around 250 shows per year, the Soul Rebels have brought the party to stages across the world, playing some of the world's best-known music events including Umbria Jazz Fest, Antibes Jazz Festival, The Montreal Jazz festival, Bonnaroo, the Wanee Festival and, of course, the New Orleans Jazz and Heritage Festival.
When Hurricane Katrina struck their hometown in 2005, the Soul Rebels came together with a renewed purpose.  "Music has been the number one vehicle for Katrina recovery," says LeBlanc, and since then the band has served as an international ambassador of the New Orleans sound.  As well as their appearance in Treme, they have featured in the Discovery Channel hit After The Catch, and the NBC broadcast of the parade before the New Orleans Saints' winning 2010 Super Bowl.