LADY ANTEBELLUM announce new album & release new video for 1st single
aaamusic | On 19, Aug 2011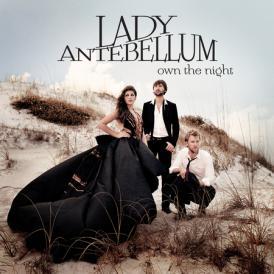 LADY ANTEBELLUM
New Album out 3rd October 2011
'OWN THE NIGHT'
The Single: 'Just A Kiss' out now
American superstars Lady Antebellum release their brand new single 'Just A Kiss' this week.
Already being played on radio stations across the UK, 'Just A Kiss' is an epic rock ballad which boasts a chorus destined to be sung in arenas around the world. A massive hit in the US, where it has sold over a million copies, it entered the Billboard Hot 100 chart at no.7 on its week of release, one of the highest-charting debuts in Billboard's 52-year history.
'Just A Kiss' is the first single from Lady Antebellum's brand new album 'Own The Night' which is released in the UK on October 3rd, and follows the five-million selling album 'Need You Now' which led to the band's stunning five Grammy Awards earlier this year , alongside many other awards in the last twelve months.
'Own The Night' was written and recorded in Nashville earlier this year, with the three band members – singers Charles Kelley and Hillary Scott, and multi-instrumentalist Dave Haywood – co-writing ten of the twelve tracks. The album was co-produced by the band with long-standing collaborator Paul Worley.
"We took more time to write and record this record than we've ever done before," says singer Charles Kelley. "I remember looking at Hillary and Dave at the Grammys this year, on the wildest night of our lives, and saying 'this is amazing…we'll never get to experience a moment like this again, but now we have to go home and get to work.'"
And that work has created a beautiful, moving, dramatic and ambitious album, which ranges from classic pop songs to epic sweeping ballads, gruff Americana to country-tinged rock. The full tracklisting is as follows:
OWN THE NIGHT – Lady Antebellum
1. We Owned The Night
2. Just A Kiss
3. Dancin' Away With My Heart
4. Friday Night
5. When You Were Mine
6. Cold As Stone
7. Singing Me Home
8. Wanted You More
9. As You Turn Away
10. Love I've Found In You
11. Somewhere Love Remains
12. Heart Of The World
Lady Antebellum have had massive worldwide success including here in the UK, where 'Need You Now' entered the charts at no.8 and has been certified gold, selling well over 150,000 copies in the past year. Their singles 'Need You Now' and 'I Run To You' were both A-list records in the UK and their British fanbase has grown massively over the last twelve months.
Lady Antebellum will be visiting the UK at the start of October.
www.ladyantebellum.com