Tom Morello: The Nightwatchman – World Wide Rebel Songs
aaamusic | On 21, Aug 2011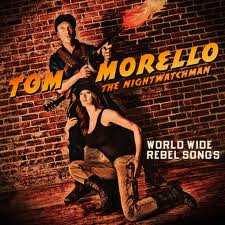 On his third solo album, World Wide Rebel Songs, Grammy Award winner Tom Morello has created acoustic roots music with his touring band, The Freedom Fighter Orchestra. This self-produced 12 track album is released on New West Records on August 30th.
His electric backing band comprises: Dave Gibbs on bass, Carl Restivo on guitar and piano, Chris Joyner on keyboard, and Eric Gardner on drums.
Tom Morello is a folk rock artist with an influential and distinctive soulful style and considerable expertise as a singer and songwriter. He's recognized by Rolling Stone as one of the 100 Greatest Guitar Players of All-Time.
These are protest songs about people living through difficult and troubled times and the need for optimism in hopeless situations. Tom Morello says "I wanted to capture a vibe midway between Johnny Cash and Che Guevara." He's a political science major and has been politically active throughout his career.
Black Spartacus Heart Attack Machine is a great song to shake your fist to and sing along to at a fast pace. Save The Hammer For The Man features Ben Harper on steel guitar and Tom Morello working pyrotechnics.  Stray Bullets angrily depicts disillusioned and embittered American soldiers in Iraq.
This is an inspiring album about social justice where individual songs focus on specific political issues, though for some the focus may be too broad.
Anthony Weightman