Natalia Kills to release single and album
aaamusic | On 25, Aug 2011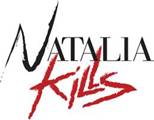 SINGLE
'FREE' Feat. Will.i.am Out 12th SEPTEMBER
DEBUT ALBUM
'PERFECTIONIST' Out 19th SEPTEMBER
ALBUM STORMS INTO INTERNATIONAL ALBUM CHARTS
iTUNES US POP CHART – NO. 3
iTUNES CANADA ALBUM CHART – NO.8
Natalia Kills releases the truly outstanding new single 'Free' impacting on 12th September, taken from her eagerly awaited forthcoming debut album 'Perfectionist' released on 19th September on CherryTree / Polydor records. The album which has just been released internationally is flying high entering the iTunes US Pop Album Chart at No.3 and the Canadian iTunes album chart at number 8. Natalia Kills has just completed a spectacular run of live shows in the UK including appearances at the first Cherry Tree Records night in London, festival appearances at Glastonbury and Wireless, and hitting Birmingham, Manchester and London supporting Ke$ha on tour.
'Free' is an uplifting power pop anthem that perfectly showcases Kills' vocal swag and indomitable attitude. The track features Wil.i.am of The Black Eyed Peas who signed Natalia after hearing her demos online. The fabulous video accompanying 'Free' co-directed by Kills, has been heavily debated on fashion blogs, rating each look and discussing the merits of chainsaws as fashion accessories. See the 'Free' video here: http://www.youtube.com/watch?v=0K2r5mmktLc
The debut album 'Perfectionist' is overflowing with some of the best power pop songs of the year, including the blistering debut single 'Mirrors' along with dark, addictive 'Zombies', the warped pop of 'Wonderland' and the wonderfully cruel 'Break You Hard'.
By co-writing all the songs, including one with Akon and working alongside a tight production team including; Martin "Cherry Cherry Boom Boom" Kierszenbaum (Robyn, t.a.T.u), Jeff Bhasker (Kanye West, Alicia Keys) and "THE RON" Feemster (Eminem, Busta Rhymes, 50Cent) Natalia has shaped a sound that sits justly alongside today's leading pop trailblazers, while bringing something a little darker and with more British influence to the party. Marrying a strong sense of imagery to this distinct sound 'Perfectionist', is reminiscent of 80's UK's power pop acts like Depeche Mode, Kate Bush, The Eurythmics and Queen.
Natalia Kills twists these influences into something new and original, delivering a 360° narrative that can be seen in her videos, photoshoots, artwork and fashion, and throughout her popular film-noir style self-made webisode series 'Love, Kills'.
Born in Bradford to Uruguayan and Jamaican parents, Natalia started out as a teen actress appearing in several high profile BBC shows, before turning her attention to music. Natalia moved to L.A. in 2008 and was signed the same year by Will.i.am in a joint partnership with Interscope and Cherrytree Records. Tipped by Perez Hilton, who booked her for his One Night In Jersey gig in Atlantic City, Natalia Kills has since been tipped across the media as the next big global phenomenon in pop music.