Evidence (Diated Peoples) to release new solo album
aaamusic | On 26, Aug 2011
EVIDENCE RELEASES NEW SOLO ALBUM 'CATS & DOGS' ON RHYMESAYERS ENTERTAINMENT
Dilated Peoples member's album drops September  26th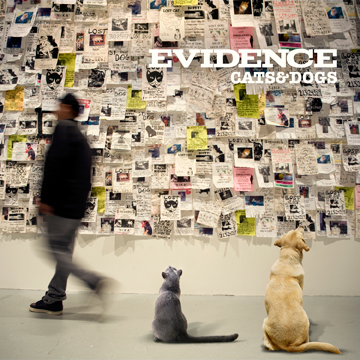 www.facebook.com/misterevidence www.twitter.com/evidence www.rhymesayers.com
Evidence, the Grammy award-winning producer and one-third of Hip Hop icons Dilated Peoples, returns on September 26th with 'Cats & Dogs', his second solo album and debut for Rhymesayers Entertainment (the label behind releases from Atmosphere, Brother Ali and MF Doom amongst others).
'Cats & Dogs' is an album of brutal honesty as Evidence opens up to the world like never before while maintaining his respected signature sound with the deadpan delivery and incomparable gravitas that earned him the title "Mr. Slow Flow." His skills and distinctive style are complemented by an all-star cast of friends and collaborators including Wu Tang's Raekwon, Mobb Deep's Prodigy, Dilated Peoples cohort Rakaa, Slug of Atmosphere, Aesop Rock, Ras Kass, Roc Marciano, Krondon, Lil Fame of M.O.P., Termanology and recent UK chart-topper Aloe Blacc.
While best-known as a wordsmith, Evidence is no slouch behind the boards either. He was awarded a Grammy for his work on Kanye West's 'College Dropout', and he showcases his abilities on several tracks here alongside work from
legendary Hip Hop producer DJ Premier, longtime collaborators The Alchemist (Eminem, Lil Wayne & more) and Sid Roams and up-and-comers Twiz the Beat Pro, Rahki and Charli Brown.
'Cats & Dogs' is a hard-hitting Hip Hop masterpiece, meshing content, rhymes and production seamlessly, and making it Evidence's most cohesive release to date – no mean feat considering his celebrated back catalogue. As part of Dilated Peoples, Evidence is one of the most successful independent rap artists of all time, with not only a Grammy, but two UK Top 40 hits under his belt ('This Way ft. Kanye West' and 'Worst Comes To Worst').
UK fans will be able to see him showcase tracks from the album when the Rhymesayers European Tour sponsored by Carhartt hits London's Electric Ballroom on November 7th.
In the meantime, a preview mix is available online to listen here: http://soundcloud.com/sureshotpromotions/evidence-cats-and-dogs
Evidence – Cats & Dogs (Album Sampler Mixed by DJ Babu) by SureShot Promotions
Download it here: http://www.mediafire.com/?8du33spabsn7tl4