Radio 2 to release 3-disc 'Pick Of The Pops' compilation
aaamusic | On 26, Aug 2011
BBC RADIO 2'S
PICK OF THE POPS ALBUM
COUNTDOWN THE CHARTS OF YESTERYEAR!
Released: 26th September 2011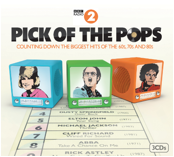 To coincide with the 50th anniversary of Alan Freeman's first ever presentation of BBC Radio 2's iconic chart show 'Pick of the Pops', Sony Music is set to release Pick of the Pops on 26 September, a stunning three-disc album ofnostalgic, classic hits compiled by the show's long-term producer Phil Swern.
Pick of the Pops leads you down memory lane as the hits of three decades come alive in one definitive album. Disc 1 delves into the charts of the 'Swinging Sixties' with stellar tracks from the likes of Dusty Springfield, Tom Jones, Buddy Holly, The Searchers and Roy Orbison. Disc 2 revisits the 'Super Seventies' with an impressive array of artists synonymous with the era including Abba, Bachman-Turner Overdrive, Sly & The Family Stone, Blondie and Hot Chocolate. Bringing you the very best of the 'Big Eighties', Disc 3 is jam-packed with unforgettable hits from 80's legends including Michael Jackson, Billy Joel, Cliff Richard, Bonnie Tyler, Lionel Richie, Madness, Rick Astley, and The Bangles. In true 'Pick of the Pops' style, the album artwork will also feature interesting facts and information about each song, written by Phil Swern.
First broadcast on the BBC Light programme in 1955 before transferring to BBC Radio 1 from 1967-1972, BBC's 'Pick of the Pops' remains one of the most iconic countdown shows ever to grace the UK radio waves. The legendary show returned to Radio 2 in 1997 under the auspices of its equally legendary host, Alan 'Fluff' Freeman, who continued to present the show until his retirement in 2000.  Freeman handed over his 'Pick of the Pops' to Dale Winton who presented it until 2010. The Pops are currently picked by radio legend Tony Blackburn and the show continues to be one of the most best loved shows on BBC Radio 2, pulling in over 1.72 million listeners each week. BBCRadio 2 is the UK's most popular radio station, with a weekly reach of 13.97m listeners.
Tony Blackburn says, "It has been such a pleasure presenting one of Radio 2's most popular shows ever. And from it, here is a selection of the best songs from the 60's, 70's and 80's, bringing you the memories and great feelings of yesteryear in one superb collection".
BBC Radio 2's Pick of the Pops – Released 26 September
Available on 3CD and download
Full track listing as follows:
Disc 1 – 60's
1.      Dusty Springfield – GOIN' BACK (1966)
2.      Tom Jones – IT'S NOT UNUSUAL (1965)
3.      The Love Affair – BRINGING ON BACK THE GOOD TIMES (1969)
4.      Edwin Starr – STOP HER ON SIGHT (SOS) (1969)
5.      BobLind – ELUSIVE BUTTERFLY (1966)
6.       The Searchers – WHEN YOU WALK IN THE ROOM (1964)
7.       Judy Clay & William Bell  – PRIVATE NUMBER (1969)
8.      Dion – THE WANDERER (1962)
9.       The Tokens – THE LION SLEEPS TONIGHT (1961)
10.    Zager & Evans – IN THE YEAR 2525 (1969)
11.    The Fortunes  – HERE IT COMES AGAIN (1965)
12.    The Hollies – BUS STOP (1966)
13.    Paul Anka – LOVE ME WARM AND TENDER (1962)
14.    Bobby Vee  – RUN TO HIM (1961)
15.    The Cascades – RHYTHM OF THE RAIN (1963)
6.     Marmalade – LOVIN' THINGS (1968)
17.    Jose Feliciano – LIGHT MY FIRE (1968)
18.   Duane Eddy –  (DANCE WITH THE) GUITAR MAN (1962)
19.   Roy Orbison  – RUNNING SCARED (1961)
20.    The Move – FLOWERS IN THE RAIN (1967)
Disc 2 – 70's
1.          Abba – TAKE A CHANCE ON ME (1978)
2.          Blondie – SUNDAY GIRL (1979)
3.          David Soul – DON'T GIVE UP ON US (1976)
4.          Hot Chocolate – SO YOU WIN AGAIN (1977)
5.          Bachman-Turner Overdrive – YOU AIN'T SEEN NOTHING YET (1974)
6.          Lou Rawls – YOU'LL NEVER FIND ANOTHER LOVE LIKE MINE (1976)
7.          Sly & The Family Stone – FAMILY AFFAIR (1971)
8.          Earth, Wind And Fire – AFTER THE LOVE HAS GONE (1979)
9.          Mott The Hoople – ALL THE YOUNG DUDES (1972)
10.      Edison Lighthouse – LOVE GROWS (WHERE MY ROSEMARY GOES) (1970)
11.       Brotherhood Of Man – UNITED WE STAND (1970)
12.       R & J Stone – WE DO IT (1976)
13.       The Sweet – BALLROOM BLITZ (1973)
14.       Sad Café – EVERY DAY HURTS (1979)
15.       The Tymes – YOU LITTLE TRUSTMAKER (1974)
16.       James & Bobby Purify – I'M YOUR PUPPET (1976)
17.       The Three Degrees – WOMAN IN LOVE (1979)
18.       The Real Thing – CAN YOU FEL THE FORCE (1979)
19.       10CC – LIFE IS A MINESTONE (1975)
20.       Elton John – YOUR SONG (1971)
Disc 3 – 80's
1.       Michael Jackson – THRILLER (1983)
2.      Billy Joel – UPTOWN GIRL (1983)
3.       Madness – BAGGY TROUSERS (1980)
4.       Lionel Richie – ALL NIGHT LONG (ALL NIGHT) (1983)
5.       Tina Turner – LET'S STAY TOGETHER (1983)
6.       Bananarama – LOVE IN THE FIRST DEGREE (1987)
7.       Kenny Rogers & Dolly Parton – ISLANDS IN THE STREAM  (1983)
8.       T'Pau – CHINA IN YOUR HAND (1987)
9.       Bill Medley & Jennifer Warnes – (I'VE HAD) THE TIME OF MY LIFE (1987)
10.   Starship – WE BUILT THIS CITY (1985)
11.   Odyssey – IF YOU'RE LOOKIN' FOR A WAY OUT (1980)
12.   Boy Meets Girl – WAITING FOR A STAR TO FALL (1989)
13.   Fine Young Cannibals – SHE DRIVES ME CRAZY (1989)
14.   Bonnie Tyler – HOLDING OUT FOR A HERO (1985)
15.    The Blow Monkeys – IT DOESN'T HAVE TO BE THIS WAY (1987)
16.    Aretha Franklin – WHO'S ZOOMIN' WHO (1985)
17.    Rick Astley – NEVER GOING TO GIVE YOU UP (1987)
18.    Shakin' Stevens – THIS OLE HOUSE (1981)
19.    The Bangles -MANIC MONDAY (1986)
20.    Cliff Richard – WIRED FOR SOUND (1981)