Trombone Shorty's album for September release
aaamusic | On 26, Aug 2011
TROMBONE SHORTY & ORLEANS AVENUE

For True

Release Date: September 19th 2011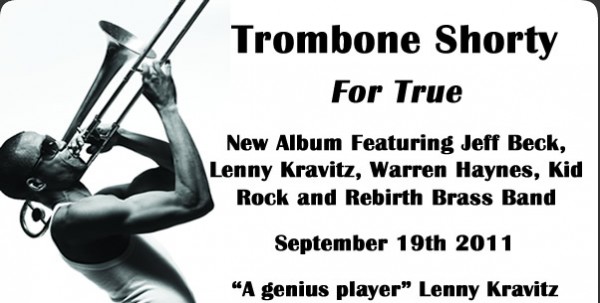 "A genius player" Lenny Kravitz
"Shorty possesses the rarest combination of talent, technical capability and down-home soul. I'm his biggest fan."
Wynton Marsalis
Explosive New Album From Troy "Trombone Shorty" Andrews Featuring Jeff Beck, Warren Haynes, Kid Rock, Rebirth Brass Band and Lenny Kravitz
With the release of For True, the follow up to his Grammy®-nominated 2010 debut, Troy "Trombone Shorty" Andrews is set to cement his reputation as one of the most explosive and exciting new artists to emerge from New Orleans in recent years. Capable of seamlessly tying together pop, funk, hip-hop, jazz and rock, Andrews has delivered an album that turns on a rare combination of virtuosity and intensity and pushes the envelope, exploring new musical territory.
For True offers substantive proof of this band's explosive growth, further refining the signature sound Andrews has dubbed "supafunkrock". It says something about the potency of their sound that the musicians who appear on For True have stirred their distinctive ingredients into the recipe rather than attempting to overpower it – the band stirs together old-school New Orleans jazz, funk and soul, laced with hard-rock power chords and hip-hop beats, and they've added some tangy new ingredients on For True as they keep pushing the envelope, exploring new musical territory.
"There was excitement from everywhere," says Andrews (who's now 25) of the experience on the road and how it fed into the creation of For True. "We did over 200 shows in the last year and a half, and every night we allowed the music to take us over. The whole band was getting better on their instruments. We were at a different level, which made us excited to get back in the studio and see what we can do. Musically and creatively, we wanted to shoot for some different things."
Helping bring the album together are some first-rate guests that Andrews has met along the road – Lenny Kravitz plays bass on Roses and he calls Andrews "a genius player – he's got nothing but personality, he plays his ass off and he's a beautiful human being," – and is later joined by Kid Rock, whose vocal is featured on Mrs. Orleans, guitarist Warren Haynes (on Encore), and singer Ledisi, who features on Then There Was You. His relationship with Jeff Beck (check out his blistering solo on Do To Me) has blossomed since the guitar legend came to Troy's late night post-Jazz Fest show at Tipitina's in 2010, and Beck has been more than vocal in his appreciation of Andrews' talents. "I was completely blown away," says the guitar legend. "The crowd went wild. A sensational group of musicians. Trombone Shorty is one to watch."
The album's unique, organic sound came about quite naturally. "We never sat down and really thought about concepts and what we wanted our music to sound like," says Andrews. "It's just that, over the years, we allowed each one of the band members to bring their influences and taste in music into our music. If I spend a lot of time somewhere else, I'll bring that back to New Orleans and show the band, and then we'll just put it all in one pot. It's just our sound, and it happened naturally."
Andrews hails from the Tremé neighborhood in New Orleans' 6th Ward, getting his nickname at four years old when he was marching in a street parade wielding a trombone twice as long as he was high. Troy started early, learning how to play drums and what he remembers as "the world's smallest trumpet" at the age of three, and by the time he reached six he was playing trumpet and trombone in a jazz band led by his older brother James, himself a trumpet player of local renown. Not long afterward, Troy formed his own band with some other musically inclined kids from Tremé, with dreams of following in the footsteps of the New Orleans tradition. The rest is history, and Andrews has been leading Orleans Avenue to greater and greater heights ever since.