The Tangled Tour, featuring Bastions,Kerouac and others
aaamusic | On 27, Aug 2011
Tangled Talk Records, Thrash Hits, Vino Sangre & Bear Face Design present: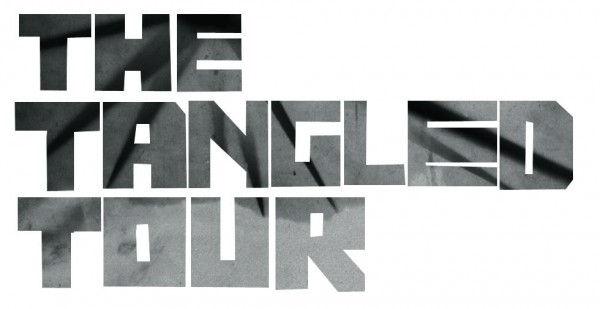 THE TANGLED TOUR 2011

Featuring:
BASTIONS
KEROUAC
GOODTIME BOYS*
THE LONG HAUL
BATTLE FOR PARIS
LET'S TALK DAGGERS
VEILS
*
*select dates only

Brighton based Tangled Talk Records have already established themselves as a leading force in the underground UK hardcore scene, releasing several critically acclaimed records since its inception in 2008. For the first time though the UK is being treated to the majority of their roster on one bill; The Tangled Tour is heading out to destroy the UK for one week only in October, a bill featuring some of Tangled Talk's more established acts as well their fledgling bands out to make a name for themselves.
Every show of this tour is guaranteed to be like nothing you've seen before, 6 bands a night sweating and screaming out to be heard over the last and leaving a devastated city in their wake.
7th October 2011 – Southampton @ Joiners feat. Battle for Paris, The Long Haul, Let's Talk Daggers, Goodtime Boys, Kerouac, Bastions
9th October 2011 – Manchester @ The Star and Garter feat. Battle for Paris, The Long Haul, Let's Talk Daggers, Goodtime Boys, Kerouac, Bastions
10th October 2011 – Wrexham @ Central Station feat. Veils,  Battle for Paris, The Long Haul, Let's Talk Daggers, Kerouac, Bastions
11th October 2011 – Leeds @ The Royal Park Cellars feat. Veils,  Battle for Paris, The Long Haul, Let's Talk Daggers, Kerouac, Bastions
12th October 2011 – Hull @ The Lamp feat. Veils,  Battle for Paris, The Long Haul, Let's Talk Daggers, Kerouac, Bastions
13th October2011 –  Sheffield @ The Earl feat. Veils,  Battle for Paris, The Long Haul, Let's Talk Daggers, Kerouac, Bastions
14th October 2011 – Brighton @ The Hydrant feat. Veils,  Battle for Paris, The Long Haul, Let's Talk Daggers, Kerouac, Bastions
Bastions
Bastions are passion incarnate. Every spat word, every tortured note, every painful beat tears emotion away from your head and shoves it back into your heart. They are a rare breed of band in that they can actually defy a genre description: they're just Bastions.
Their third release Kingdom of Dogs saw the band gain critical acclaim from both underground and mainstream press and in January 2010 saw Bastions join with Tangled Talk Records to meet increase and demand. Their latest release, Island Living (a three track 7" Vinyl), was a far darker and more sinister affair that showed the band cover a surprising range of territories in just under ten minutes and gave an alluring glimpse of what to expect from their debut album Hospital Corners (due late 2011).
They have just completed touring as main support to Gallows and the rest of the year will see them continue their relentless schedule across Europe and the UK to support their album release'
Kerouac
Kerouac formed in the spring of 2009 after the dissolution of former bands with the intent to write raw, chaotic and heartfelt music. Their debut record, Cold and Distant, Not Loving saw the light of day in summer 2010 after being given a limited run by Ebb and Flow records. Towards the end of 2010 Kerouac teamed up with Tangled Talk Records and Holy Roar Records to re-release the then long-sold-out debut. The band have shown no signs of slowing down in 2011 releasing split EPs with the bands The Long Haul and Pariso, released in March and May respectively.
During their existence they've shared a stage with The Chariot, Pianos Become The Teeth, Dead Swans, The Carrier, Throats, La Dispute and Hang the Bastard. The band is also part of the 2011 Incubate Festival in Tilburg, Holland. With a debut album in the works, Kerouac look to continue their ascent in 2011.
Goodtime Boys
Having spent what seems like the vast majority of 2010 on tour around the UK, Goodtime Boys finally deliver their long awaited EP Are We Now, Or Have We Ever Been via Tangled Talk Records in May 2011.  Recorded by Lewis Johns at The Ranch Production House in Southampton, the record marks a significant departure from their debut split with Solutions, containing five impassioned tracks that tread a line between the aggression of hardcore-punk and the frail intensity of melodic screamo drawing frequent comparisons to bands like La Dispute and Defeater.
Are We Now, Or Have We Ever Been is released on 10" vinyl on May 30th 2011. Pre-orders are available from Tangled Talk Records and include an instant download of the full release. Limited to 250 copies on vinyl and available from all major download stores. Goodtime Boys are currently on a UK tour with Bastions and will be touring UK/Europe with Dangers in July.
The Long Haul
Since their first show in June 2010 The Long Haul have toured the UK and Europe, played shows with bands such as Throats, Trash Talk & Bastions and released a critically acclaimed split EP with label-mates Kerouac. They are known for their ferocious live shows and uncompromising writing style, a style that mixes the technicality of Botch, the intensity of Converge and the off-kilter melody of Poison The Well; all coloured with a secret love for bluegrass music. The last thing this band want to be known as is generic.
After a line-up change mid-way through 2011, The Long Haul now find themselves with a new singer, a stronger healthier attitude and an EP full of brand new tracks due out in October on Tangled Talk Records. The band will be touring the UK and Europe extensively throughout the next year, hoping to build on the already solid fan base and unfailing reputation they've working hard to earn.
Battle For Paris
Battle For Paris are a five piece hardcore band based in London. They combine duelling guitars with complex rhythms and throat-lacerating vocals, creating an instantly refreshing sound and ferocious live performance. The band's debut EP, With A Gun Between Your Teeth, You Speak Only In Vowels was released through Tangled Talk Records in 2009 to critical acclaim. They have toured the UK numerous times and last year completed a tour of mainland Europe with run, WALK! (Holy Roar Records).
The band are currently touring the UK and working hard to promote their debut album Superstar, due to be released later this year. A track from said album is being featured on Small Town America records 10th Anniversary compilation vinyl Public Service Broadcast 10.
Let's Talk Daggers
Let's Talk Daggers are a three-piece experimental post-hardcore band from Eastbourne, UK. Despite originating from a coastal town that's more often associated as a retirement destination rather than a musical hub, the band play a style of music that couldn't be any more of an antithesis to their sleepy backdrop.
Loud, fast and frantic, their sound is an unnerving blend of genres and styles that would come across as disjointed and cacophonous if attempted by most bands, incorporating elements of art-punk, hardcore, jazz and metal.
Veils
Veils are an emotionally charged melodic hardcore band from Cornwall. They choose to do things the traditional way of living out the back of their van and plying their trade to anyone that'll listen. It's not enough to listen to Veils; to experience them live is to watch them bare their souls.
"Our enlightenment is dead – 2011″