The Pirates – Shakin' With The Devil (Best of)
aaamusic | On 30, Aug 2011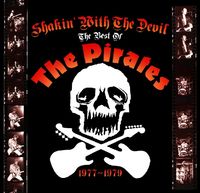 No, this is not an internet "lulz" band, so get that context of Pirates out your head right now young lady/gentleman/member of the jury. What we have is one of the most underappreciated bands in the history of rock n' roll. Johnny Kidd & The Pirates were the 60s alternative: powerhouse rock madmen somewhat akin to Dr Feelgood kidnapping Adam Ant. However, this compilation collects the years of the backing band (The Pirates) from 1977-1979 once they reformed to capture the spirit of punk, which they had preceded the first time round. And let me tell you, this gorgeous little two-disc gem is 52 tracks of some of the greatest rock music not merely from Britain, but the world.
From the tongue-in-cheek inclusion of the radio promo spots to the loving audio mastering of the tracks, one is left in no doubt that this is a labour of love, gathering LPs, singles, live tracks and rough mixes, many of which have never been released on CD. The first eight songs are live recordings, and this does wonders capturing the gritty vitality of the band, as Mick Green's phenomenal guitar work crunches into the meat and bones of the power trio sound, with agile yet solid basslines and skiffle-influenced drumming. The solos of 'I Can Tell' and 'Lonesome Train' especially are a gobsmacking pinnacle of a man sounding like the whole of Denmark Street given masterclasses. The ominous walking progressions of the spiky 'Peter Gunn' is a deceptive behemoth: is it a bog-standard walking bassline, or is it a jangling lead guitar lunacy? The answer is both. The Pirates' secret to the sound that holds a 52-track release from start to end is that they rip into rhythm and melody with equal ferocity, and both at once, knowing that the trio sound relies on doing just that. There's no jobsharing, so all three need to know exactly what they are doing, and the sheer amount of roars from the crowd are a telling indication of how incendiary this lot must have been to see. The era of punk has its grubby fingerprints all over these songs – they're more raw and heavy than Jonny Kidd ear material, yet the band's core sound of rock n roll is an undeniable skeleton and skin of the sound. But they push and twist it to new dimensions. 'Voodoo' is a surreal tribal shaker that brings to mind the primal rockabilly underground with a distinctly British humour and workmanship to it.
This is a godsend to us CD brats who are catching up with vinyl: unreleased tracks like 'The Witch Queen Of New Orleans' are real beauties. This track especially had me hooked, stopping and playing it through four times, with its catchy swagger and stomp, a dirty bluesy rock number with an almost funky rhythm, blending The Blockheads and Dr Feelgood into an undeniably great track.
Yes, there are the "known" tracks here: 'Please Don't Touch' having its raw power amped up to 11, and not one but two incendiary runthroughs of 'Shakin' All Over', all catchiness and manic finesse. However, it is the unreleased "rough" tracks that throw up some buried treasure – the aforementioned Witch Queen being one, and a great live version of 'Linda Lu'. And, of course, a punk rock rendition of 'All By Myself'.
All I can say is that anyone who enjoys rock music should by this compilation, and discover why so many musicians are precious enough to make The Pirates the best of their best-kept secrets. With their sound inspiring household names from The Who to Dr Feelgood to Lemmy and all those who follow their footsteps in turn, The Pirates are what sparked the fire that's fuelled so many of the greats, and it is transparent as to why this is the case, in these 52 tracks of the highest calibre.
Author: Katie H-Halinski