SISSY & THE BLISTERS – New video, Let her go!
aaamusic | On 01, Sep 2011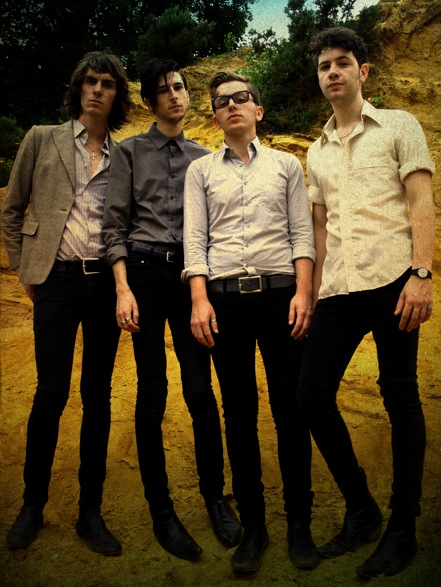 Sissy & The Blisters are:
James Geard (Vocals, organ) / Nick Benton (guitars, organ) / Jack James (guitars, organ) / Ed Kirwan (drums)
The wonderful Sissy & The Blisters are to release their new EP Let Her Go on the 3rd of October 2011. There's something rather special about this band, you can detect it from the fifteen minute burst of this EP, but it is truly confirmed when you experience them live. Leaving a recent gig at the Bull & Gate, we had aching jaws from the ecstatic Cheshire cat grin that hit our faces from the opening riff of the surreal, hilarious and blindingly brilliant Sissy & The Blisters set and none of us could remember the last time – if any – a gig had our mouths forming a 'Wow' while the thought bubble from our heads read 'did that just really happen'?!
An attending Steve Lamacq was similarly enthralled. His 6 Music show the following day became a running add for Sissy's live extravaganza with his blog Going Deaf For A Living echoed the message that he'd "just fallen in love with Sissy & The Blisters again"
 It was a love affair which began when Sissy released their first two singles last year:  'Things May Change' and 'We Are The Others' on independent labels Hit Club and Friends Vs. Records respectably.  Overnight they became one of the UK's most hotly tipped new bands. As well as Lamacq plays on both 6Music and Radio 2, both singles received extensive radio play from firm new fans Zane Lowe (Radio 1), Huw Stephens (Radio 1), Lauren Laverne (BBC 6Music) and John Kennedy (XFM) with the second
single 'We Are The Others' being added to the XFM playlist, while its accompanying video received 10,000 plays on YouTube in its first week alone.  In press land, an equally fired-up fan base spread with The Fly plastering Sissy across their 'One to Watch' pages "you see we're hooked on the Guildford based foursome's striking aesthetic and thrilling, visceral sound and we need to hear more" and Q hailing the aforementioned second single as "an attention grabbing listen".
Musically Sissy condense their fifties rock 'n' roll and sixties beat groups inspired music into short three minute power-packed post-punk blasts…"The Vaccines, The Strokes and Interpol are contemporary references, but the roots of Sissy and the Blisters feel a lot deeper – taking in everything from Thee Headcoatees to The Standells. Fans of garage rock take note" – Independent. The unmistakable sound of the vintage Vox organ and the band's dress code of skinny black jeans and dramatic winkle-pickers – and, no doubt, front-man James Geard's impossibly skinny, looming frame and deep commanding vocal  – raise obvious comparisons to The Horrors; but catch one minute of their high energy live set and all ideas of 'Goth' are obliterated as you experience something more akin to a Black Lips gorilla party (had they been jamming with The Cramps). Sissy live revel in a sense of mania and danger that sets them wide apart, playing 25 minute gigs bursting with mayhem and glorious mischief.
In early 2012 they will release their debut album. For now, steady your beating heart, for they bring you the 'Let Her Go' EP, released on Monday 3rd October on Fierce Panda. The title and lead track has already graced the Independent's Barometer and Q the Music's Track of The Day.
Sissy & the Blisters play the following shows: 
Sat 17th Sept. Boileroom, Guildford 
Fri 23rd Sept. XFM Xposure @ Tram and Social, Tooting 
Sat 24th Sept PURE Festival w. The Raveonettes @ The Garage, London 
Sat 1 Oct Cambridge Wish You Were Here Festival 
Tue 4th Oct Northampton Roadmenders 
Fri 7th Oct Brighton Hope 
Tue 11th Oct Portsmouth, Cellars
Fri 14th Oct Aldershot, West End Centre
Sat 22nd Oct SWN Festival, Cardiff