John Foxx And The Maths Announce 'Evergreen' single for 10th October and 'Interplay' UK Tour
aaamusic | On 06, Sep 2011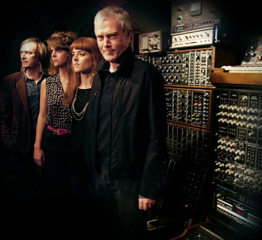 John Foxx And The Maths
Announce 'Evergreen' single for 10th October and 'Interplay' UK Tour
OCTOBER TOUR DATES
13 Leamington Spa Assembly Rooms (£18.50)
20 Bristol Theckla (£20)
21 Manchester Academy 4 (£20)
22 Liverpool Stanley Theatre (£20)
23 Glasgow Arches (£20)
24 York Duchess (£20)
25 London XOYO (£22.50)
27 London XOYO (£22.50)
28 Holmfirth Picturedrome (£20)
'Interplay' Reviews:
'One of the finest electronic records you'll hear in 2011.' THE QUIETUS
'Meeting of synth-fetishists is a triumph.' **** MOJO
'Foxx has released an album which equals the high points of his rich back catalogue.' BBC.CO.UK
'One of the most enlightened synth records in years.' **** THE STOOL PIGEON
'Foxx is still sounding relevant.' **** ARTROCKER
'A masterclass' **** NEWS OF THE WORLD
'A great album.' **** RECORD COLLECTOR
'Robo-pop bliss.' CLASSIC ROCK
'The Maths turn out to be a superb foil for Foxx.' THE WIRE
John Foxx And The Maths are pleased to announce their first ever UK tour in October, featuring material from their new album Interplay as well as classic songs from early Ultravox and Foxx's solo career. They're also releasing a new version of the track 'Evergreen' as a single on 10 October.
Interplay is a collaboration between Foxx and electronic composer and synthesizer collector, Benge (Ben Edwards). The latter is best known for his 2008 album Twenty Systems, which was described by Brian Eno as a 'brilliant contribution to the archeology of electronic music.'
Moody and atmospheric, but also full of songs that are actually more ''pop'' than avant garde, Interplay pulls various strands of electronic music together – from early '80s electro to 70s Krautrock, even flashes of Cabaret Voltaire and Foxx's first band, Ultravox. One track, 'Watching A Building On Fire' features Mira Aroyo from Ladytron, who also came up with the original synth riff.
Foxx and Benge will be joined on stage by two performers who are also solo musicians in their own right – Serafina Steer (Keyboards, Bass) and Hannah Peel (Keyboards, Violin).
John Foxx formed Ultravox in the 70s and has worked with a wide range of artists including Brian Eno, Krautrock producer Conny Plank, Paul Daley from Leftfield, Cocteau Twins guitarist, Robin Guthrie and I, Robot director Alex Proyas.
"Foxx's music still sounds futuristic, accompanied by flickering footage and images of design that never dates: imagined cityscapes, endless motorways. As these time machines whirr to silence, it's clear that Mr Foxx is still fantastic."NME review of John Foxx, the Roundhouse, June 2010
Quotes on John Foxx
'John Foxx's Ultravox are the Velvet Underground of our generation.' JOHN TAYLOR & NICK RHODES, DURAN DURAN
'I think apart from his incredibly cinematic lyrics, John's music has always conjured entire movies in my head when I listen to it. I think it's his mastery of atmosphere that has stayed with me through the years. If I could only make a movie as textured and evocative as John's music I would be a happy man.' ALEX PROYAS, DIRECTOR OF THE MOVIES – I, ROBOT, THE CROW AND DARK CITY
'John Foxx's Metamatic is an amazing, visionary album.' KLAXONS
John Foxx's Ultravox provided the blueprint for my own electronic music. GARY NUMAN
'I connected so deeply with early Ultravox that everything changed for me.' VINCENT GALLO (ACTOR & MUSICIAN)
'While other 80's chart busters are reforming and playing their old stuff, John Foxx continues to be an innovative and interesting artist. I still keep the torch burning. Last time I was star-struck? When I met John Foxx for tea!' MARK GATISS – LEAGUE OF GENTLEMEN, SCREENWRITER FOR SHERLOCK & DOCTOR WHO