The Narcoleptic Dancers to release new single 'Rastakraut'
aaamusic | On 08, Sep 2011
RETURN WITH NEW SINGLE 'RASTAKRAUT'
RELEASED SEPTEMBER 12th
VIA BLEEPMACHINE/CAPITAINE PLOUF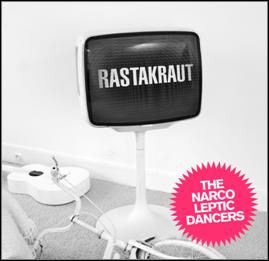 'This Franco-Dutch duo perform subversively pretty indie-pop, all barmily breezy acoustica with kookily appealing melodies' The Guardian
Links: Myspace / Facebook / Last FM
The Narcoleptic Dancers return with new single 'Rastakraut', released on September 12th on Bleepmachine & Capitaine Plouf.
Last year brought to light the unusual union of Melody Van Kappers and Anton Louis Jr, the half-brother and sister outfit that fate magically brought together.
Their father, Johnny Van Kappers, was a Dutch professional footballer who rose to fame in the 70s. His charm and talent graced several European clubs and relentlessly made his mark beyond the realms of the football pitch…. And so Melody and Anton were born, 10 years apart, in two different countries – Haarlem in the Netherlands and Saint- Etienne in France, with the pair totally oblivious to each other's existence. Only at their father's funeral would they finally meet and share their communal passion: music. From then on they were inseparable, making up for lost time.
Their first EP 'Not Evident' came out in Autumn 2010 and making an instant impression. Their fresh, spontaneous melodies went down a storm on both sides of the Channel.
'Rastakraut' is the 1st single taken off of their forthcoming debut album 'Never Sleep' set to be released on September 26th.
LINKS:
MySpace http://www.myspace.com/narcolepticdancersband
Facebook http://www.facebook.com/TheNarcolepticDancers