The Spivs announce new album Black And White Memories
aaamusic | On 12, Sep 2011


BLACK AND WHITE MEMORIES
Damaged Goods Records
14 November 2011
CD/LP/download
Damaged Goods Records are delighted to announce that Thee Spivs have a brand new album ready to be launched on to the shelves on 14 November. Their fantastic new LP, Black and White Memories, follows their critically acclaimed debut Taped Up (which received accolades including a Mojo Rising feature, Guardian New Band of the Day and reviews in The Sunday Times, Artrocker and The Mirror).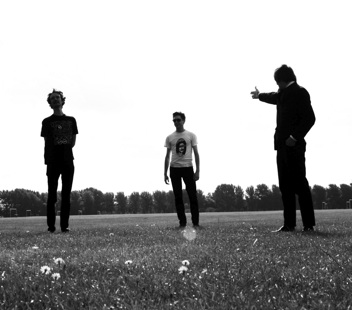 Thee Spivs formed in Hackney, East London in the summer of 2007 when Ben Edge (Git and Vox) and Steve Coley (drums) played their first gig as a two-piece at a friend's warehouse party in which they were wrongly billed as The Pricks. They were to remain as a duo for the next year and half in which time the band have said to of played 'every shit hole in London twice'. Fed up of playing in the same old empty pubs and clubs Ben and Steve decided to create their own club night in a derelict bar in Shoreditch. It was here that Ben and Steve met Dan who became the bass player. Once the line up was complete the band got a break when they met Grammy award winning producer Liam Watson who saw potential in the band and invited them in to the famous ToeRag studios. The session resulted in Thee Spivs now highly collectable debut single "It's True" which was released on 1965 records in late 2009.
The band then signed to Damaged Goods records in early 2010 and has since released their critically acclaimed debut album Taped Up as well as two 7″ singles ("I don't want it" and "Radio") which were all recorded in Ben Edge's front room and toilet. Their song "Radio" was also named as one of the best songs of 2010 by radio one DJ, Huw Stevens, for whom Thee Spivs recorded a Maida vale session. The trio have since taken Taped Up across Europe playing everywhere from public toilets, to boat parties and to packed-out festival audiences, as well as being selected to play this year's Glenfiddich Mojo Honours Show at the legendary 100 Club.
Thee Spivs' second album Black and White Memories was recorded and produced by Ed Deegan at Gizzard studios. Whilst still managing to maintain the original Spivs sound we all know and love, there has also been the introduction of a much wider range of influences. Veering from glam rock to camp fire sing-alongs, this album will not disappoint and is full of fresh surprises. Get ready for Thee Spivs' unpredictable and raucous live show coming to a town near you soon!
LINKS
http://damagedgoods.co.uk/band/?c=Thee-Spivs
http://www.theespivs.blogspot.com/
http://www.myspace.com/theespivs
"Their attitude has appeal in the age of conformity!" THE DAILY MIRROR
"Thee Spivs immaculately accurate debut balances fading echoes of mid 1970's Canvey Island pub-rock professionalism with historically appropriate foreshadowings of immediate post-punk cleverness" STUART LEE, THE SUNDAY TIMES
"Think of Taped Up as a Wire-style coherent conceptual work rather than an excuse to rattle through a bunch of songs at breakneck speed." PAUL LESTER, THE GUARDIAN
"Thee Spivs debut LP is full pelt Ramones, Rezillos and Billy Childish-like 28 minutes of 77 flavored livid punk. Tempting! " CLIVE PRIOR, MOJO MAGAZINE
"8/10 This sure is one hell of a debut to have under their belt. It's highly likely your going to be hearing a lot more of Thee Spivs!" ROCK SOUND MAGAZINE
"The truth you'd hope for! Taped Up leaves the listener in no doubt that these chaps need three ingredients to rev up the engine: speed, youth and hooks!" T BONE JONES, ART ROCKER