Nick Lowe – The Old Magic
aaamusic | On 13, Sep 2011
NICK LOWE
The Old Magic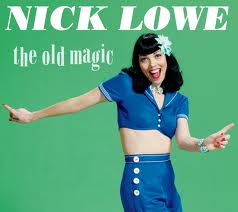 In his 20s, New Yorker Nick Lowe was not a part of the three successive movements of pub rock, punk and new wave, but his music had a character of its own. His last album, At My Age, was much acclaimed and he's had a reputation for seeking new areas to explore over his 40 year career.
The Old Magic, Nick Lowe's thirteenth solo album but his first new studio one in over four years, is due for release on September 5th on Proper Records.
It was recorded in London with Geraint Watkins (keyboards), Steve Donnelly (guitar) and Robert Treherne (drums). Other musicians were Ron Sexsmith, Paul Carrack and Jimmie Vaughan. The album was co-produced by Lowe, Neil Brockbank and Treherne. There are eight original tracks and covers of songs by Elvis Costello, Tom T. Hall and Jeff West.
This is an appealing and relaxed but tight folk rock album from a musician who has matured. In Checkout Time he sings "I'm sixty-one years old now, Lord I never thought I'd see 30", so he's grateful for his longevity.  I Read A Lot is a typically fine ballad which illustrates why Nick Lowe has remained at the forefront of modern music. To some he remains a great story teller and national treasure.
The 11 tracks are: Stoplight Roses / Checkout Time / House For Sale / Sensitive Man / I Read A Lot / Shame On The Rain / Restless Feeling / The Poisoned Rose / Somebody Cares For Me / You Don't Know Me At All / 'Till The Real Thing Comes Along.
Author: Anthony Weightman