Tennis System share new track and video
aaamusic | On 13, Sep 2011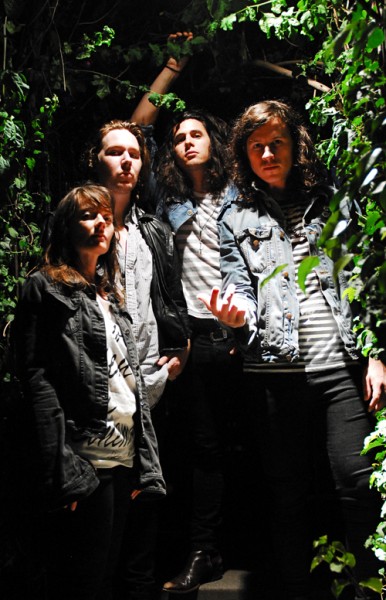 Tennis System Share New Track and Video
"Hey, We Tried" mp3 link: http://www.bantermm.com/tracks/TennisSystem-HeyWeTried.mp3
The noisy, earnest legacy of the Jesus and Mary Chain, My Bloody Valentine, and Ride lives on in the expansive, catchy-as-hell pop songs of Los Angeles' Tennis System.
Matty Taylor (vocals and guitar), Misha Bullock (drums and, on occasion, guitar), Christopher Worchester (guitar and, on occasion, drums), and Guylaine Vivarat (bass) are masters of loud and dirty anthems, but rising above the noise that blankets them are Taylor's beautifully sung, dreamy lyrics inspired by both love and art. Listen hard, and through the distortion, threads of melody emerge; these are picturesque songs, full of woe, optimism and yearning.
So expansive was their sound — and so ferocious were the live shows — that Tennis System has won wide attention from bookers and blogs alike; they have shared bills with the likes of Ty Segall, Wavves, Japandroids, Pains of Being Pure at Heart, A Place To Bury Strangers, and Love is All.
The band was borne of gritty Washington, D.C. where a young Taylor steeped like tea in the music of Fugazi, The Make-Up, Bad Brains and the many bands who poured into the city's famous 9:30 Club. When he met Bullock, a Brit and one of the best drummers D.C. has seen since Dave Grohl, the two bonded over their affection for reverb-drenched noise.
LA denizens Worchester and Vivarat joined Tennis System on the W(B)est Coast, on the eve of the release of their new album Teenagers, due in the fall 2011. Working with Ryan van Kriedt (Asteroid No. 4 and The Dead Skeletons), the band experimented with cello, bells, xylophone, synths and organ to add dimension and complexity to its sound. The first single, "Hey, We Tried," is as the Washington City Paper wrote, "the rare shoegaze song that manages to gallop."
Tennis System on Facebook: http://www.facebook.com/TennisSystem?sk=wall
Tennis System Tour Dates:
September 13 Denver, Colorado- Larimer Lounge
September 16 (DJ set) Washington, DC- BlackByrd
September 17 (Day) Maryland- Merriweather Post Pavilion for the WHFStival
September 17 (Night) Washington, DC- Rock & Roll Hotel
September 19- Philadelphia- Barbaray
September 20- New York City- Public Assembly
September 21- New York City- Pianos
September 22 – Porsmouth, Ohio – Dickens' Pub
September 23- Chicago- Crown Liquors
September 24- Chicago- Beauty Bar
September 25- St. Louis- Pig Slope
Teenagers Tracklist
1. Chop Wood Carry Water
2. Snowden
3. Lovers & Fake Friends
4. Hey, We Tried
5. Arcane
6. Y
7. We Will Meet Again
8. Ladies Lament
9. You And Me VS.
10. Losing Focus