THE GLITCH MOB // 'Warrior Concerto' download // Europe and UK tour dates
aaamusic | On 04, Oct 2011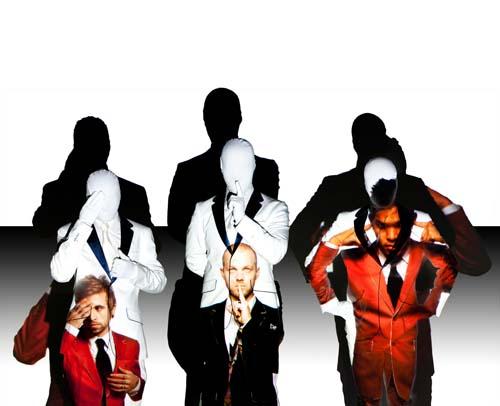 Download 'Warrior Concerto' (taken from previously released EP 'We Can Make the World Stop') here
Watch the video for 'We Can Make the World Stop' here
Following a successful two years which saw them release one of 2010's premier electronic-music albums 'Drink The Sea', plays to crowds at Coachella, Wireless and Lollapalooza, and this year unveil their groundbreaking EP, 'We Can Make The World Stop', Los Angeles trio The Glitch Mob are set to kick things up a notch with a 16 date European tour replete with sonic gambits designed to elevate everything the band has done onstage to new levels.
Since 2006, The Glitch Mob and their hip-hop infused electronica have become dancefloor regulars. Innovative and forward-thinking, their bass-heavy beats have rocked the US dance scene.
Released via The Glitch Mob's own Glass Air imprint, 'Drink The Sea' represented the group's growth up from the underground into a full widescreen vision. From the cosmic cover art by Sonny Kay (famed for his haunting imagery for Mars Volta) to the cathartic, psychedelic, unclassifiable grooves it holds inside, 'Drink The Sea' would launch a whole new phase in the group's evolution upon its 2010 worldwide release.  The first single, 'Drive It Like You Stole It', sped to the top of the most popular songs on Hype Machine's charts, while the album itself topped the iTunes Electronic Album charts numerous times throughout the year, cementing it as one of 2010's best-selling independent electronic albums.
'We Can Make The World Stop' functions to wet appetites in anticipation of an upcoming full-length in 2012 which features moody synths, vocoder funk, heraldic melody and body-moving percussion, all imbued with fractured longing and melancholy amidst the slamming rhythms.
With an official remix commissioned for Daft Punk's Tron Legacy Reconfigured project and official remixes for the likes of TV on the Radio, Linkin Park and numerous others, The Glitch Mob's sound continues to gain respect, popularity and fans amongst their fellow musicians and fans alike. Their music has found key placements for television shows (CSI, Damages, America's Got Talent), film (Captain America, Tim Burton's 9), and commercials for GoPro and Fiat, further proving that The Glitch Mob have become a major force in the US electronic scene.
Their upcoming tour will no doubt see them achieve similar success in the UK and Europe.
October
Fri 14th Oct – Paris, FR @ Le Nouveau Casino,
Sat 15th Oct – Boulange Sur Mer, FR @ Festival Poulpaphone
Weds 19th Oct – Amsterdam, NL @ Paradiso
Thurs 20th Oct – Brussel, BE @ VK Club
Fri 21st Oct – Budapest @ Merlin
Sat 22nd – Berlin, DE @ Icon
Tues 25th – Lille, FR @ Festival Ground Zero
Thurs 27th – Prague, CZ @ Roxy
Friday 28th – Stockholm, SE @ Debaser
Saturday 29th – Malmo, SE @ Debaser
November
Tues 1st Nov – Bordeaux, FR @ Festival Paradis Artificiels
Thurs 3rd Nov – Hamburg, DE @ Klubsen
Fri 4th Nov – Bristol, UK @ Motion
Sat 5th Nov – London, UK @ Electric Brixton
Sun 6th Nov – Glasgow, UK @ The Arches
Mon 7th Nov – Katowice, PL @ Ars Cameralis