A Tribute to Bert Jansch
aaamusic | On 09, Oct 2011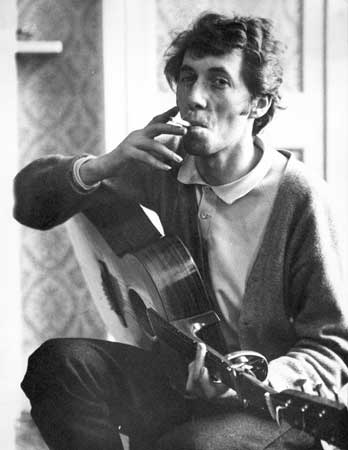 "I'm Bert" said this modest, quiet and gentle man as he began a hypnotic performance to an audience at the New Theatre, Oxford. Bert Jansch never searched for celebrity. As his wife Loren said recently, he was "not one for showing off".
Scottish born Jansch sadly passed away on Wednesday at the age of 67 at a hospice in Hampstead. He was a prolific, influential songwriter and a masterful acoustic guitarist. His music was unique. It was distinctive and crossed genres, but was quite difficult to describe.
Jansch could produce incredible soulful sounds to a spellbound audience. He was a prominent figure in folk revival and very hard working. To Led Zeppelin's Jimmy Page he was an enormous source of learning and inspiration. Canadian Neil Young said he created a new and innovative acoustic approach.
His outstanding debut album Bert Jansch, in 1965, was recorded on four borrowed guitars, because he didn't own his own guitar. He was a founder of Pentangle in 1967, joining John Renbourn, Jacqui McShee, Danny Thompson and Terry Cox in the band. Pentangle had a stunning mix of folk and jazz that resulted in a huge following. These were complex, modern versions of classic folk songs, helping to keep traditional music vibrant. Pentangle was best known for its 1970 hit single Light Flight.
As a solo artist, Jansch received a lifetime achievement award at the BBC Radio 2 Folk Awards in 2001. The critically praised Black Swan, released in 2006, was the last of 23 solo albums. It featured Beth Orton, Devendra Banhart and contributions from his son Adam Jansch. He received the MOJO Merit Award at the Mojo Honours List ceremony in the same year.
In 2007 Jansch was awarded an Honorary Doctorate of Music by Edinburgh Napier University in recognition of his outstanding contribution and Pentangle received a lifetime achievement honour at the BBC Radio 2 Folk Awards.
The full UK tour for Pentangle which followed in 2008 was a magnificent reunion. Jansch has been recognized by Rolling Stone magazine as one of the top 100 guitarists of all time. His final performance was at a Pentangle reunion at The Royal Festival Hall on August 1st, 2011.
As Jacqui McShee said: "He will be so missed." Personally, I'll remember the passion, beauty and elegance of his music on a cold January night at The Half Moon Putney. We abandoned our car in heavy snow before reaching home, but strangely Bert had even helped made this experience peaceful.
Anthony Weightman