A Chat with The Birthday Suit!
aaamusic | On 17, Oct 2011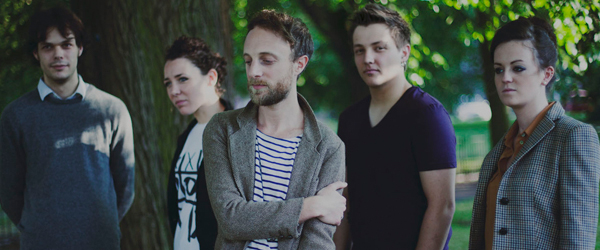 Josie had a chat with Rod from The Birthday Suit, here's what she discovered!
AAAmusic: Hi Rod, how are you?
I'm good thanks.
AAAmusic: Tell us a bit about how The Birthday Suit came to be.
I guess it came about when I was writing my second solo album. I was a good way into writing when I realised I didn't really want to make another singer/songwriter sounding acoustic tinged record right now. I pretty much went back to the drawing board and started to experiment with beats and electric guitars again. This obviously led to me needing a band to play the ideas through and record them so I pulled together some friends and after a rehearsal or two The Birthday Suit we became.  It's great to have the chance to play with different people and I couldn't have asked for a better group if people to work with.
AAAmusic: What can people expect from your new project? Is it a different sound to what people might expect?
I suppose so. It's something people might have expected from me a few years ago almost. I just fell back in love with noisier guitar music and realised how much fun it is to play and write. It's a record that is really enjoyable to play live and I can't wait to get on tour with it.
The Birthday Suit – Do You Ever? by abadgeoffriendship
AAAmusic: I love "Do You Ever," how would you describe it? Is the track representative of the overall sound of "The Eleventh Hour?"
Thank you… It's maybe one of the most Idlewild sounding songs I think and although it's not truly representative of everything on the record it just felt like a good way to start out. Maybe to surprise people a little and grab their attention.
AAAmusic: There is a track with Jill O'Sullivan of Sparrow and the Workshop on the album; how did this duet come about?
I'm a big fan of Jill and her band and from touring with them to working with Jill on the fruit tree record we've become friends. When I wrote the song I really wanted it to be a duet and after recording the basics it just sounded perfect for her voice.  She literally popped round for a cup of tea and sang the song once and it sounded great.  Don't you just hate people who are that good?!
AAAmusic: You have just done a few tour dates with some more to come, how has the reception been so far?
The initial reception has been great.  I really didn't know what to expect as we'd never performed together before and I am still adjusting to my new role in the middle but some very kind words and reviews have definitely given me some much needed confidence!
AAAmusic: Would you be able to tell readers a bit about your work with the Fruit Tree Foundation? The results are truly spectacular…
It's something that was born of working with the Scottish mental health foundation over the past few years in helping to organise music events for their festival.  Myself and Emma Pollock had been doing this for a couple of years and although the reaction to the gigs was always fantastic and the press and awareness raised by them great also, it felt a bit like it was limited to the time that the festival was running.  I really wanted to do something that would have some longevity and keep people talking all year round.  A record seemed the obvious choice and with the enlistment of some of Scotland's finest talents I was always really confident that the results would be good.  I could however never have hoped it would turn out as well as it did!  With alot of help from mental health organisations and funders and some very hard work from the musicians and the good people at Chem 19 studios the record turned out to be something really special and both valid and inspiring in equal measure.  Its something that we all are immensely proud of.
AAAmusic: It's a pretty good time to be Scottish at the minute, being represented by no end of brilliant musicians. Are there any you would particularly recommend?
There has always been a wealth of great Scottish musicians including favourites of mine like Teenage Fanclub and Belle and Sebastian and a wealth of newer bands like Sparrow and the Workshop and Frightened Rabbit who are taking the music world by storm at the moment.  I never like to pick certain bands over others though and in my opinion the best thing about the Scottish music scene is the sense and spirit of family and collaboration.  It's something unique to Scotland I think.  Not so much a place where music feels a competition between bands but more a place with a real sense of mutual support and respect.  Something I've been very lucky to be a part of.
AAAmusic: What are your plans for the rest of the year?
The rest of this year will be mainly just spent touring and promoting this album and trying to build up our fanbase.  It's strange to be starting out again from scratch after 15 years with Idlewild but also very exciting.
Author: Josie Payne
The Eleventh Hour is due for release on 11th of November 2011 via Sing It Alone Records.
The Birthday Suit are heading out on a UK tour. Catch their live show at one of the following dates:
22nd October – The Cluny – Newcastle
23rd October – The Borderline – London
25th October – The End – Birmingham
26th October – Ruby Lounge – Manchester
27th October – King Tut's – Glasgow
28th October – The Tunnels – Aberdeen
4th November – Cabaret Voltaire – Edinburgh
25th November – Beat Generator – Dundee
26th november – Tollbooth – Stirling
9th December – Greenside Hotel – Glenrothes