ENTER SHIKARI promise 'colossal' DJ set for Halloween, free mixtape download here
aaamusic | On 25, Oct 2011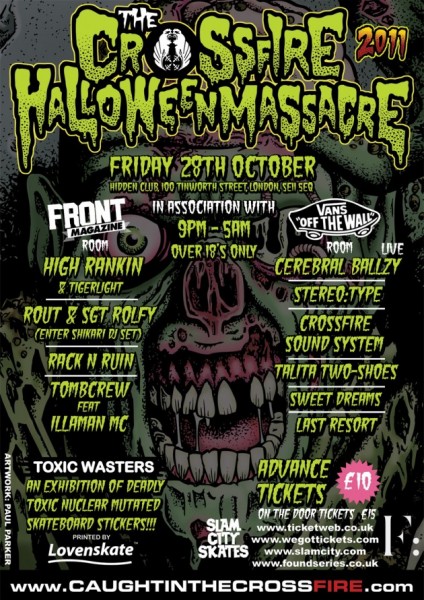 ENTER SHIKARI PROMISE 'COLOSSAL' DJ SET MIXING DRUM AND BASS, DUBSTEP AND MOTOWN AHEAD OF THIS WEEKEND'S CROSSFIRE HALLOWEEN MASSACRE
PLUS STEREO:TYPE RELEASES ROCKING FREE HALLOWEEN MIXTAPE!
NIN x GNR x NERO x PRODIGY x DAFT PUNK x RATM x PENDULUM x SKRILLEX x PLAN B x GINUWINE x SLIPKNOT and MANY MORE!
Enter Shikari's singer Rou Reynolds has promised a "colossal" DJ set at this Friday's Crossfire Halloween Massacre in association with Vans. Playing records with drummer Rob Rolfe under their DJ names Rout and Sgt Rolfy, the pair are set to cause havoc on the decks at London's most raucous Halloween party. Speaking to Crossfire this week from their tour bus Reynolds stated:
"It's going to be colossal. We're going to play huge tunes, mixing drum and bass, dubstep, Motown – just party music for party people. I wanna see people dressed up as horrific bananas, the Baseball Furies from the Warriors film – and lots of Zombies. It's our last night before we head off to America for two months so we want to have it!"
In related Massacre news, XFM's most requested mash up DJ STEREO:TYPE has released a 53 minute Halloween Mixtape featuring a plethora of artists from rock and dance including Nine Inch Nails, Guns and Roses, The Prodigy, Rage Against the Machine, Skrillex and many more as part of the FOUND Series at Hidden Club.
Looking ahead to the big night STEREO:TYPE's Chris Bishop says: "I couldn't be more psyched for this year's Massacre! Last time I played, the crowd was insane. I'm sure playing in the Vans room this year will be even more mental. It's the one time in the year I really get to let my inner-angst ridden teenager out and cut up my arms with broken records, so I'll be playing all the styles I usually throw together, but peppered with a serious amount of Metal goodness! It's definitely time to get in the circle pit and rock out with your Cock/Flange/Sexually Ambiguous Fleshy Mound out…"
This year's Massacre is held at Hidden Club, 100 Tinmouth Street, Vauxhall, London, SE11 5EQ on Friday 28th October 2011. Expect an explosive Halloween themed night where 3 rooms will be buzzing with a stunning line up of in your face dubstep, electro, drum and bass, punk and metal DJs. This year's event also hosts the Toxic Wasters skateboard sticker art exhibition featuring deadly, toxic, nuclear wasted work from 12 of the best graphic illustrators in London.
Trouble and Bass trio TOMB CREW will be smashing the beats with ILLAMAN MC on mic duties to kick start the night, followed by Black Butter Records' producer and one of London's most prolific bass scene DJs RACK N RUIN. 2 members of the mighty ENTER SHIKARI will also join the party and drop some filthy dubstep on the decks, so lookout for ROUT and SGT ROLFY who will be followed by Brighton's eccentric bass leader, HIGH RANKIN with vocalist TIGERLIGHT.
The Vans Room will host a live set by Brooklyn's most destructive hardcore band, CEREBRAL BALLZY. The raging, 5-piece punk band will annihilate the Massacre with tracks from their self-titled debut album that has received critical acclaim in Britain's influential music magazines. Expect carnage.
Crossfire Halloween Mix & Free Mashup by Stereo:Type
This room will also deliver the very best classic rock, metal, punk rock and hip hop all night long courtesy of Total Rock's TALITA TWOSHOES who returns for her 4th year at this event. Following their latest sets at the Kerrang! Awards and Reading Festival, Crossfire founders James Sherry & Zac Slack will be rolling out the CROSSFIRE SOUND SYSTEM with upbeat party tracks followed by the one and only STEREO:TYPE. New DJs added to the bill this week include the LAST RESORT crew and SWEET DREAMS.
The remaining few tickets to the Crossfire Halloween Massacre in association with Vans are available in advance for only £10 and booking fee at www.ticketweb.com and there will be only 100 tickets available on the door, on the night for £15. This event will sell out very soon now so get tickets as soon as possible to avoid disappointment.  All details can be found at www.caughtinthecrossfire.com
Stereo:Type Halloween Mix 2k11 Tracklisting:
Alice Cooper – Feed My Frankenstein
Michael Jackson – Thriller (Vincent Price Acapella)
Skrillex – Reptile
Foreign Beggars – Contact (Acapella)
Excision & Downlink – Reploid (Neon Steve Rmx)
Excision  – The Underground
MSTRKRFT – Bounce (Acapella)
Figure – Torture (Space Laces Rmx)
Fukkk Offf – Rave Is King (Le Castlevania Rmx)
Ginuwine Ft. Timbaland & Missy Elliot – Get Involved (Adam F & Herve Rmx)
Far Too Loud – Start The Party
The Prodigy – Firestarter
Far Too Loud – Start The Party (Specimen A Remix)
Flux Pavilion Ft. Foreign Beggars – Lines In Wax
Blame – Star (Doctor P Rmx)
Plan B – She Said (16 Bit Rmx)
Wolfgang Gartner – Ill America
Nine Inch Nails – Wish (Acapella)
South Central – Demons
Slipknot – Before I Forget (Acapella)
Rage Against The Machine – Killing In The Name (Acapella)
Congorock – Babylon (Dub Mix)
Porter Robinson Ft. Sue Cho – Hello
Grum – Go Back (Le Castlevania Rmx)
Guns N Roses – Chinese Democracy (Acapella)
Michael Jackson – Thriller (Instrumental)
Nine Inch Nails – Closer
Wolfgang Gartner – Ménage A Trois
Daft Punk – Technologic (Acapella)
Chase & Status – Let You Go (Feed Me Rmx)(Stereo:Type's Let You G(h)o(sts)N Stuff Edit)
Dirtyloud Ft. Mc Sirreal – Needle In Your Arm
Nero – Crush On You (Killsonic Rmx)
Katy Perry Ft. Kanye West – E.T (Noisia Rmx)
Benny Benassi Ft. Gary Go – Cinema (Skrillex Rmx)
Zomboy – Game Time
Mind Vortex – Onslaught
Delta Heavy – Minus
Cutline – Die For You (Shock One Rmx)
Pendulum – Witchcraft
Noisia & Phace – Program
Phetsta – Prism
Ram Trilogy – Lunar Bass (Commix Rmx)
Bad Company – Seizure