SPLIT FESTIVAL ANNOUNCE SPECIAL CHRISTMAS SHOW
aaamusic | On 25, Oct 2011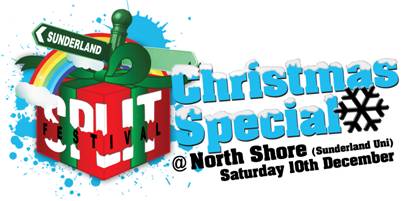 SPLIT FESTIVAL ANNOUNCE SPECIAL CHRISTMAS SHOW
Following on from the success of this summer's Split Festival, organisers have begun to programme a series of musical and culinary events, which will take place throughout the year, in different venues throughout the city of Sunderland. The plan is to supplement their annual music festival, which is held every summer at Ashbrooke Sport Club and give Wearside an excuse to party on a regular basis.
The first of these events will be the Split Festival Christmas Special which will take place on December 10 at the Sunderland University venue, North Shore. The line up will feature live music from The Futureheads, Hyde & Beast and B>E>A.K and an aftershow club night with a DJ set from Frankie & The Heartstrings. There will also be drinks promos and festive themed food, from BBC Masterchef finalist Stacie Stewart. Tickets are only £12.50 in advance.
Split's Barry Hyde, who is also front man of The Futureheads, can't wait to play his beloved home city: "This gig is going to be a very special night; The Futureheads haven't played a headline gig in Sunderland since September 2010! Far too long!"
In fact Barry will be performing in all three bands on December 10. He plays keyboards in Hyde & Beast, who are fronted by his younger brother Dave and the multi-instrumentalist will also be making a special guest appearance with B<E<A<K: "I'm also really looking forward to playing with Hyde and Beast, and the wonderful B<E<A<K. North Shore is a superb venue to play in and watch bands in. It's going to be a Sunderland winter musical treat."
Split's Richard Amundsen, who also performs in B<E<A<K, added: "The aim is to provide a celebration of all things Sunderland and give those attending the opportunity to have a proper Mackem Christmas night out! A lot of people will be out on Christmas nights out around that time of year and with the gig being on a Saturday we'd like them to come down and have a great night out with us. The Futureheads are always great live; we also have Hyde & Beast returning from their first national tour. I'll be on stage with B>E>A>K and I might even muck in with some DJing alongside Frankie & The Heartstrings."
Split's music programmer and Futurehead, Ross Millard, had this to say: "After meeting Sunderland City Council and the University and getting them both on board, we're looking to put on more big nights like this in Sunderland and bring in some national touring acts to North Shore in 2012. We also plan to have some good food at these events and Stacie Stewart, who currated our excellent food tent at Split 2011, will be on hand with some festive feasts. It's exciting times here at Split and we hope to announce our next projects following this one early next year and also confirm the dates of Split Festival 2012."
Ticket details: £12.50 advance/£15 on the door. Tickets available from: Hot Rats, HMV, ALS, RPM, & See Tickets. See www.splitfestival.com Facebook and Twitter for on line ticket purchases, further details and updates.