Smokey Bastard – Tales From The Wasteland
aaamusic | On 31, Oct 2011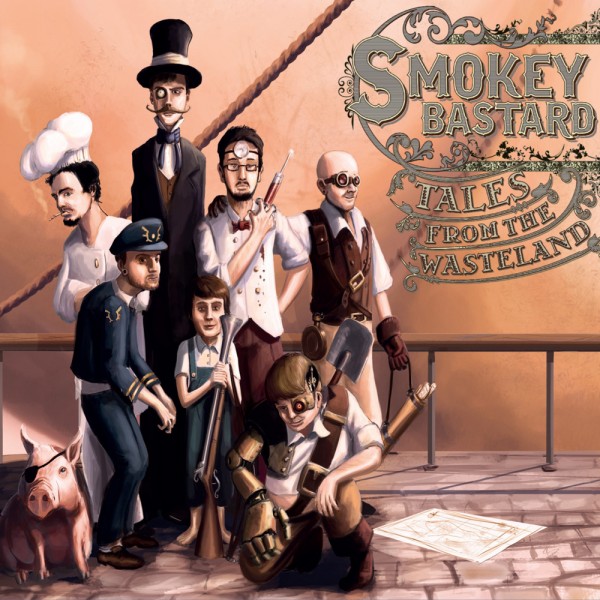 It would be very difficult for anything that Smokey Bastard do to be better than their phenomenal name, and fortunately they've negotiated that particular pothole by having their album be significantly more fun than several barrels full of particularly whimsical monkeys. As a genre, folk-punk can only really go two ways, it can either be deadly serious cultural fight music (Dropkick Murphy's, New Model Army) or it can be an excuse for a an awful lot of very drunk folk, who can usually be found in Against Me! T-shirts and torn jeans to jig like an imbecile in mosh pits rather than beat people up in them. Smokey Bastard are unquestionably in the latter camp, but that particular allegiance can be found on their album cover, ask yourself, how seriously can a band take themselves when, hidden in the corner of their album cover, is a cartoon pig in an eye-patch. An EYE-PATCH!
And that's before you even listen to the album itself, the rest of it is pure, Flogging Molly worshipping lunacy. With harmonized Mandolin/Banjo licks (First single Yuppie Dracula), lyrics about seafaring and other related concerns ("My son John  was tall and slim / And he had a leg for every limb" indeed), not one, but two a capella close harmony numbers ( Boatepitaph and My Son John, which brings to mind Frank Turners brilliant English Curse if roughly seventeen more people were harmonizing on it.)  and more heavy guitar/mandolin/ banjo/pennywhistle/whatever riffs than you can shake a wooden leg at. Needless to say, it's utter brilliance from end to end, although that said, I'm not up to date with the vast majority of Smokey Bastards influences so I can't say whether this sounds like many other bands, unfortunately. But in their defence, I can't think of many other bands who reference The Wire, Preacher, Bruce Springsteen, The Gaslight Anthem and Die Hard in the same, excellent, song (Aspirations, I Have Some) so in that sense, they seem to be one of a kind.
The band also have a neat line in expanding their sound beyond the usual three-chord-and-pennywhistle thrash that they do so well, just look at the aforementioned acapella numbers and Bad Receptions gothic folk waltz, but this is one of the very few cases where a band honestly doesn't really need to. The songs are great and the album benefits from some diversity, but it would still be a genuinely great record without them. There's no doubt about it, this is not a record for everyone, obviously not everyone likes folk punk as much as I do and Mike Wood's voice can grate sometimes but in total this is a phenomenal record, with an abundance of charm and fun with just as much sheer songwriting talent. Recommended to the ends of the earth.
Will Howard