The Good The Bad – From 018 To 033
aaamusic | On 31, Oct 2011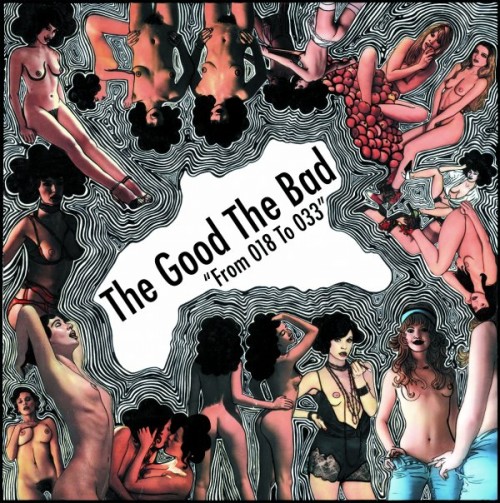 Sometimes, you never know you need something until you get it. This is incredibly evident with The Good The Bad. I never thought that I'd be an utter sucker for amazingly sleazy, Ennio Morricone indebted, instrumental flamenco surf'n'roll, from Denmark of all places, until From 018 To 033 hurtled into my email inbox and knocked me completely for six with its copper bottomed genius. Made up of Copenhagen natives Adam Olsson and Johan Lei Gellet on lead guitar and drums respectively, and Sonderborg born Manoj Ramdas on baritone guitar, The Good The Bad sound like something from Quentin Tarantino's wettest dream, a classic rock indebted power trio making uber-cool sounding surf rock that's both seedy and cinematic. This may sound like a slightly hard sell, especially when one takes into account the fact that there are no track titles on this record, there first record was called From 001 To 017, this one is From 018 To 033, you do the math, but take a chance with this, dear reader, I promise that you won't regret it.
Easily, the main reason why this is such a surprising record is how The Good The Bad have managed to take what might be a slightly limiting line up and laugh in its face, this is imponderably huge record, one only needs to look at closing track, er, "033"'s colossal sounding outro of staccato battle drums, Mariachi sounding trumpets and pure Hammer Horror Organ. It's astonishing and one wonders how they can possibly pull this off live, however, when the rest of the record is made up of smaller, but no less breathtaking moments I doubt they have to worry, just look at the slightly shameless early Kinks pilfering evident in "024" (Although in all honesty, I guess the shameless award on this record has to go to the porn film samples that bookend some of the tracks. Not cool The Good The Bad, not cool.)
But aside from that this is a great record, for a very good reason, the band sound like a well drilled, cohesive unit, every track here feels as natural as breathing, as if they just sauntered into the studio, turned on record and released what happened next, but still complex, exciting and daring. Case in point, try not to grin like an imbecile during "023"'s woozily sharp garage rock riffing, before listening to the song again and realizing just how tight these guys must be as musicians. An edgy record then, probably not for everyone, but for a lot more people than it might sound on paper. Highly recommended.
Will Howard