We Are The In Crowd – Best Intentions
aaamusic | On 31, Oct 2011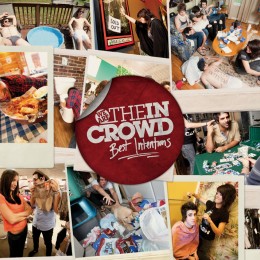 Why do young people have so much energy? This Poughkeepsie-five piece have more than most. Thankfully they have channelled it into perfectly pleasant pop punk. Single Rumor Mill hurtles along at one hundred miles an hour, with an engaging mix of female and male vocals. Taylor Jardine and Jordan Eckes have polished voices, which complement each other and keep things interesting throughout the album.
The band were discovered in 2009, when their MySpace was hacked. A music website reported the vandalism, which attracted the attention of Hopeless Records.
The title of This Isn't Goodbye, It's BRB will act as a good barometer as to how much you will like We Are The In Crowd. Personally, it made me give a little snort of laughter. Kiss Me Again suggests a rockier Taylor Swift. The song has the feeling of a chaste romance, which is only convincing when sung by the young. Overall, there's an optimism behind these songs, even when they talk about things going wrong.
All Or Nothing proves the band can take their feet off the accelerator, without losing the attention of the listener. This album is lean, with a running time of just over 30 minutes. Only You've Got It Made lasts more than three and a half minutes.
It's hard to imagine We Are The In Crowd changing anyone's life, but you might enjoy their sunny perspective on life. The music is delicious, rather than nutritious, but it won't rot your teeth.
The band still have a myspace page, but they aren't afraid of moving with the times. Now they're on Facebook too. In the section marked 'Biography' they have written the following, 'We're a pop-rock band from upstate NY. Let's be friends!' You can never have too many friends, so why not join the party?
Stuart Moses