Gary Numan Announces December 2011 Tour Dates!
aaamusic | On 01, Nov 2011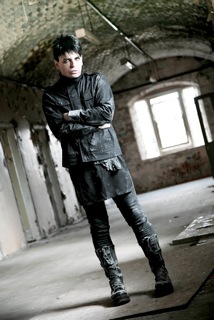 Gary Numan
Announces New December Tour Dates
'Dead Son Rising'
Album – Out on 24 October, 2011
"Gary Numan proves music has always been really inventive for the masses.' Lady Gaga
Dead Son Rising Tour, 2011:
7 Leamington Spa Assembly Hall
10 ATP Festival with Battles
11 Hatfield Uni SU – The Forum
'There are still people trying to work out what a genius Gary Numan is.' Prince
Gary Numan returns this autumn with a new album
Dead Son Rising
and a UK Tour. The new album developed out of a set of demos the singer had left from previous projects, but as he explains: 'The original ideas that sparked off these songs are now barely visible. It's grown into another animal, something more experimental.'
' I was always impressed by the way Gary Numan found his own voice – and it was unusual – but it was unmistakenly him and boldly him. I see me doing what I learned from him.' Trent Reznor, Nine Inch Nails
Produced and co-written by Ade Fenton ( Numan's collaborator on 2006's
Jagged
), the material ranges from the heavily anthemic 'The Fall' (written about 'an old friendship gone bad') to the Arabic and ghostly 'We Are The Lost' and one of the standout moments, the brooding 'Dead Sun Rising' (*
please note the different spelling to the album title
). The latter both contain elements from a sci-fi fantasy story Numan has been writing over the last few years. Meanwhile, troubled relationships are explored on 'For The Rest Of My Life' and 'Not The Love We Dream Of', and there's also room for two instrumentals ('Resurrection' and 'Into Battle'), showcasing some of the 'soundtrack-type' material that Numan and Fenton have been working on recently. It all adds up to one of Numan's most atmospheric albums – one for those who loved his B-side experiments in the past but also containing some very direct, streamlined electronic rock in the likes of 'Big Noise Transmission', 'The Fall' and 'When The Sky Bleeds, He Will Come'.
'I was listening to Gary Numan and I ended up becoming more polished as a designer. I designed my new tracks.' Kanye West
Numan also continues to work on the 'bulldozer, riff-fest' of his next album
Splinter
which remains his priority release next year. He's also collaborated with Battles on their new single, 'My Machines', which was released by Warp Records in August and he plays the 'Nightmare Before Christmas' ATP Festival which Battles are hosting on 10 December.
As the NME argues, 'Numan's influence on electronic music is unparalleled.' He's been namechecked as an influence by everyone from Kanye West to Foo Fighters and Queens Of The Stone Age, and an ever-growing list of artists have covered and sampled his music. These range from Basement Jaxx to Damon Albarn; Afrika Bambaataa to RZA and GZA from the Wu-Tang Clan.