Jukebox the Ghost – Everything Under The Sun' out Nov 7
aaamusic | On 01, Nov 2011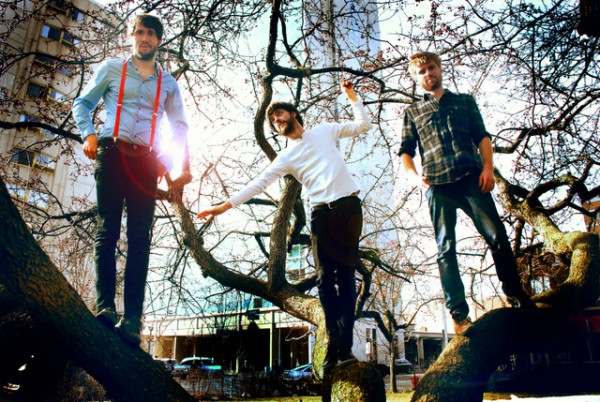 Philly trio Jukebox the Ghost release their new album Everything Under The Sun in the UK on November 7 through Yep Roc Records.  The album, produced by Peter Katis (Interpol, The National), will be preceded by the single 'Schizophrenia' on 24 October. The band come to the UK to play London's Barfly on Thursday, 3 November with further UK live shows to be announced shortly.
Originally formed whilst at university in Washington D.C., Jukebox the Ghost (the name's an amalgam of Captain Beefheart and Nabakov references) gelled quickly, despite their disparate musical backgrounds in everything from classical piano to prog to indie to 80s Brit-pop.  The band – Ben Thornewill (vocals and piano), Tommy Siegel (vocals and guitar) and Jesse Kristin (drums) – collectively deliver an unabashedly upbeat, playful sound, which won accolades for that first record, Let Live and Let Ghosts, which Spin Magazine called "a refreshing reminder that the lighthearted electricity of a fantastic pop song is still filled with live wires."
Jukebox the Ghost's pop sensibility is still on display on the new record, but now rounded out with more emotional heft and an expanded musical palate. For starters, there's an emergence of synths, most notably on the Phoenix-like opener 'Schizophrenia.' (Says Thornewill: "I was such a classical pianist for a long time that I was sort of against using them…and then I started fooling around and realized how much they could open up our sound."). Elsewhere, the album veers through gorgeous AM radio throwbacks ('The Summer Sun'), Beatles-esque twists and turns ('Mistletoe') and even a little prog-rock in 'The Sun,' 'The Sun (Interlude)' and 'The Stars,' a three-part "philosophical/cosmological pondering" by Siegel that's actually quite…dance-able.
As for the Beatles fixation of the record (like 'Nobody,' which Thornewill calls their "most McCartney-esque song"), the band gives some credit to their adopted hometown of Philadelphia, where the group relocated to from Washington D.C. on a whim after their first record. "The music scene here is amazing," says Siegel. "A lot of bands here, like Dr. Dog, have a heavy Beatles vibe going– I think that made us realize that it's OK for us to wear our influences on our sleeves a little bit."
Jukebox the Ghost plan to continue touring, adding to the 300+ shows the band  have done since the release of their debut album. It was out there, with the likes of Ben Folds, Adam Green (Moldy Peaches) and Ra Ra Riot, and appearing on festivals like Lollapalooza and a jaw dropping performance of 'Schizophrenia' on the Late Show With David Letterman, where the group built up a fervent, wide-ranging fanbase. "Our growth as a band has been from word-of-mouth and just being on tour," says Siegel. "We seem to attract everyone from hipsters to parents to kids to college students. It never ceases to surprise me."
Besides delivering a raucous live show, one other thing will stay constant with Jukebox the Ghost, newfound maturity or not: the lack of a bass player. "That's how we started," says Kristin. "And we take a lot of pride in coloring every section of every song just with the three of us. We've sort of proven to be a successful oddity without one."