GARY NUMAN honoured with 'Legend Award' & TIM BURGESS wins 'Icon Award' + both confirm DJ set at the inaugural ARTROCKER AWARDS tomorrow at XOYO
aaamusic | On 01, Dec 2011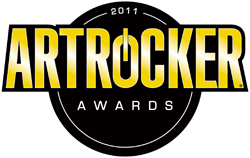 Artrocker is pleased to announce that electro pioneer Gary Numan is to be honoured with the Legend Award at its first-ever Awards Show event, which takes place on Friday 2nd December at London's XOYO.
Numan will also be DJ'ing at the Awards Show's public gig, which takes place at XOYO the same evening as the ceremony.
Also DJ'ing at the event will be another Award winner, The Charlatans' Tim Burgess, who has been awarded Artrocker's Icon Award, in association with Farah.
Another Award winner announced pre-show is legendary Skins & Punks photographer Gavin Watson, who will pick up his award from his good friend Plan B's Ben Drew.
While the other winners will be announced at the daytime ceremony at XOYO, everyone is invited to see some of the greatest bands and artists of 2011, including the legendary Gary Numan, as they appear together across two-floors at London's XOYO on Friday 2nd December 2011 until 3am at the Artrocker Awards Party!
Getting the party started in XOYO's Gallery Bar will be DJ Sets from the legendary electro pioneer Gary Numan, Jim Reid of The Jesus & Mary Chain and Tim Burgess, whilst events downstairs in the main room will see live performances from the best live band of 2011, The Jim Jones Revue, Super Furry Animals' Gruff Rhys and, following tours with The Duke Spirit, The Subways and stella performances at Reading & Leeds 2011, the best new band around, The Computers.
With further DJ Sets from young guns Tribes and Is Tropical, this will be a party to remember, so start your Christmas celebrations now!
ARTROCKER AWARDS SHOW PARTY CELBRATING THE BEST OF 2011
2 DECEMBER 2011 @ XOYO, LONDON
8PM – 3AM
£15 ADVANCE TICKETS
XOYO
32-37 Cowper St
London
EC2A 4AW
ROOM 1 (Gallery Bar)
DJ SETS FROM:
GARY NUMAN
JIM REID (THE JESUS & MARY CHAIN)
TIM BURGESS
TRIBES
IS TROPICAL
AND MORE!
ROOM 2 (Basement)
GRUFF RHYS (LIVE)
JIM JONES REVUE (LIVE)
THE COMPUTERS (LIVE)
HEAVENLY JUKEBOX DJS
£15 ADVANCE TICKETS AVAILABLE FROM:
SEE TICKETS http://www.seetickets.com/Tour/GRUFF-RHYS
TICKETWEB http://www.ticketweb.co.uk/user/?region=gb_london&query=detail&event=477798
TICKETMASTER http://www.ticketmaster.co.uk/Artrocker-Presents-the-Artrocker-Awards-Live-Gruff-Rhys-Live-Jim-tickets/artist/50