Win HotSessions CDs!!
aaamusic | On 01, Dec 2011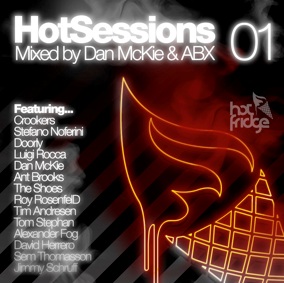 We're giving away 2 copies of HotSessions!!
For your chance to win simply email win@aaamusic.co.uk – subject line HotSessions, with your name and address!
Hurry Up! Entries close Monday 12th December!
Good Luck!!

HotSessions is a brand new mix compilation series from the ever growing in statue, HotFridge Records label…
Compiled and mixed by HotFridge Head Honchos Dan McKie & ABX, the first album in the series showcases a gorgeous selection of cutting edge house, zesty European percussive beats and rolling tech house – featuring 17 carefully selected tracks on one superb DJ mix from many dance music favourites and some of the most emerging talent on the scene – including Crookers, Doorly, Tom Stephan, Stefan Noferini and Ant Brooks, as well as big tunes from heavyweight labels such as Hot Fingers, 303 Lovers, Skint and Southern Fried to name a few… HotFridge mean business.
Tracklist:
01. Crookers & Lazy Ants                 Carcola                               Original Mix
02. Nino Bellemo                             I Want To Get You    Noa & Aldo Ron Sanchez Remix
03. Tim Cullen & The Persuaders    Zomba                                Original Mix
04. The Shoes                                  Wastin Time                       Tom Stephan Remix
05. Alisson & Turner                       Trompeta Loca                     Jimmy Schruff Minimal Lab Remix
06. Extra Sauce                               Let Me Toss Your Salad        Original Mix
07. Serotonin Thieves                      Vixen                                 David Herrero Ole Remix
08. Stefan Noferini                          Trumpet Train                    Dan McKie Fish Dont Dance Remix
09. Sem Thomasson                         See You Baby                      Sunset Shake Remix
10. Edgar VM                                  80s One More Time Original Mix
11. Roy RosenfelD                           Pimpin In Sanaa                 Luigi Rocca Remix
12. Tim Andresen                            Arsay                                 Par Hammar Remix
13. Alexander Fog                            Orbital                               Dan McKie Fish Dont Dance Remix
14. Shieldz                                     Size                                    Ant Brooks Remix
15. Jimmy Schruff                          Jabberwockee                     Original Mix
16. Karlos Cheadle                          Epic                                   Original Mix
17. Starjackers                                Something's Happening        Doorly Remix
The DJs:
ABX – Although more well known for 'big-room' sounding productions this album exemplifies his diverse range of styles which show a more stripped-back, darker, minimal tech house sound.
ABX aka Andy Bury is an ex 'trance superstar' who has re-discovered his house music roots with HotFridge. Responsible for creating many anthemic club moments spanning over the past two decades, his productions continue to gain support from some of the worlds biggest DJs ranging from Tiësto through to Fatboy Slim. Having had 2 download No.1's with his Starjackers project, his recent hit single 'Something's Happening' on Southern Fried (also featured on this album) was also described by Norman Cook as 'one of his biggest tunes of the year'.
Dan McKie – Dan McKie currently has in excess of 22,000 fans on his facebook fan page – that's more than some of the other 'big' DJs out there…. they can't all be wrong surely…….
Dan McKie has just completed his 2011 Ibiza DJ Residency as well as recently recorded an interview and radio mix from the legendary Cafe Mambo Radio 1 studio. He has also been remixing and producing for the likes of Pacha, Southern Fried, Stonebridge's 'Stoney Boy' Music, 1980 Recordings, and of course HotFridge. Dan is also Fatboy Slim approved, with his track 'Arabian Robots' appearing on a Fatboy's Mixmag Cover Mount CD in late 2010. Since then he has gone on to remixing groups including The Whip and Starjackers. His recent track 'The Bull' (together with DJ Will Clarke on Southern Fried) gained international radio airplay on Andi Durant's Capital FM Saturday Night radio show, which is currently britain's most popular dance show.