Buzz Human – Powersolo
aaamusic | On 04, Dec 2011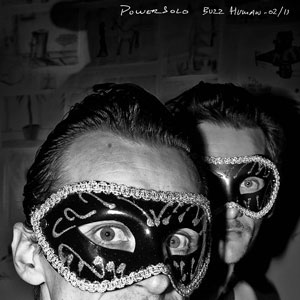 Boasting 15 tracks in under 45 minutes, Buzz Human's 'Powersolo' attempts to plug into the scuzzy voodoo groove of rock n roll in its primal state, with varying degrees of success.
The opening spoken-word intro is frankly a little unnecessary, and the marimba-led riff of 'I Love You But I Hate You' grooves and jives with bratty charm but lacks any great quality. 'Took It To Me Pads' likewise feels a little lacklustre. There's a heavy dose of early Stooges, especially in the dirty guitar tone and sardonic snarl of the vocals, yet it lacks the vitality and power of The Stooges, and feels to be frank a little soulless. 'Hear My Plea' kicks up the power, but not by much. Yowled vocals and a drumkit sounding like pile of metal bins in a shooting range definitely create a sense of authenticity but it can't click. As for 'Creepy', it starts out as promising, if a little too derivative of the Velvet Underground, but the chorus and riff border on cringeworthy.
'Sensation' is another sickly track, awkwardly mashing together modern indie-rock guitars and the post-punk proto-punk sound Buzz Human are pushing.
Then again, the slow-burn 'Satisfy The Man' hits a spot that, if not sweet, has a trace of honey and heat in it, with a drum beat and sound like The Cramps, and the guitar too holds their post-punk rockabilly menace, and the dead simple lyrics are pulled off with a cheeky madness. 'To Hell' equally pulls off the campy silliness and dark moodiness that Buzz Human should have but often lack, creating a track that is actually rather enjoyable. 'The Rither' likewise feels pretty damn good, an instrumental track that harnesses the band's dormant seam of mad dusty rock n roll, galloping along with allure. This leads onto the mildly unhinged 'Teach You Fun' with an opening like Bad For Lazarus, although it slopes off into the self-indulgent plodding Velvet Underground copy Buzz Human suffer from.
The thing with 'Powersolo' is that there is just too much seriousness going on. Buzz Human sound like they're from the primal scratchy 45s that you might find gathering damp in an exciting attic, but for the most part they feel laboured. There's a lack of immediacy and a lack of humour, and what's left is songs that should be tongue-in-cheek but instead feel wooden and deadpan. Maybe they're ironically serious and actually rather good, maybe I don't 'get' the joke, I don't know. All I know is that really, I find this album dull. And surely that's the one thing rock and indeed music as a whole should never be?
Author: Katie H-Halinski