RONNIE ROSS QUINTET – Stompin' With The Ronnie Ross Quintet
aaamusic | On 04, Dec 2011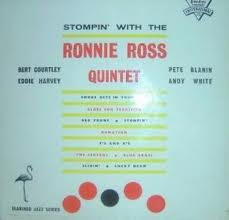 Ronnie Ross was a great jazz baritone saxophonist. He was a tutor for David Bowie, soloist on the Lou Reed song Walk on the Wild Side and soloist on several Matt Bianco albums.
His quintet comprised: Ronnie Ross (alto saxophone, baritone saxophone), Eddie Harvey (valve trombone, piano), Pete Blannin (bass), Bert Courtley (trumpet, mellophone) and
Andy White (drums).
The Stompin album was recorded in 1958, first released on Parlophone and in 1961 reissued on Ember. The CD reissue on 5th December, 2011 is mastered from tape and is within the original Ember sleeve. The booklet reproduces the original sleeve notes plus the sleeve to the earlier Parlophone release.
Enthusiasts treasure Ronnie Ross as a superb jazz artist, brilliantly producing music with elegance, passion and wit. To collectors this will be a fine, nostalgic addition from an artist with relatively few available recordings.
Tracks: 1. Stompin (Eddie Harvey) (5:25) 2. Lucky Bean (Ronnie Ross) (6:27) 3.Blue Grass (Ronnie Ross) (4:09) 4. Red Prune (Ronnie Ross) (3:54) 5. Blues For Terrasita (Bob Burns) (2:24) 6. Donation (Don Rendell) (3:08) 7. Smoke Gets In Your Eyes (Jerome Kern/Otto Harbach) (4:58) 8. T s And A s (Bert Courtley) (4:16) 9. The Serpent (Tubby Hayes) (3:42) 10. Slidin (Harry South) (4:31).
Author: Anthony Weightman