TONY CROMBIE & HIS FRIENDS – Whole Lotta Tony
aaamusic | On 04, Dec 2011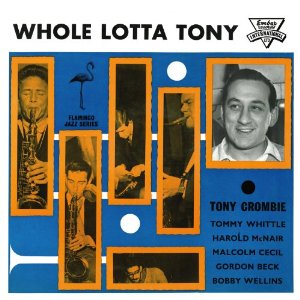 Tony Crombie, who died in 1999, was a successful English jazz pianist and composer who was also one of the finest jazz drummers and bandleaders.
His influence on the British jazz scene was for six decades. He performed with big bands, created Tony Crombie & His Rockets and led the London Jazz Quartet.
Whole Lotta Tony was recorded and released in 1961 on the Ember label. Tony's friends were Tommy Whittle (tenor clarinet, bass clarinet), Harold McNair (alto saxophone, flute), Gordon Beck (piano, harpsichord), bassist Malcolm Cecil (bass) and Bobby Wellins (bass).
Tony Crombie was an outstanding musician who was admired alongside Stan Tracey and Kenny Graham. He understood well the harmonies of bebop and swing.
He had a reputation as a relaxed musician "so cool he often appeared to be totally detached from the music, even in up-tempo numbers." It's said "he even hit the cymbals from underneath sometimes, probably to save energy."
The mastered album is released on CD by the Fantastic Voyage label from December 5th, 2011. It's placed in the original Ember sleeve, with a booklet that reproduces the original sleeve notes and labels.
Tracks: 1. Gut Bucket 2. Keep It Light 3. Look For The Real Thing 4. Flute Salad 5. Brazilia 6. Stop That Man 7. Round The 'Ouses 8. Penthouse Party 9. The Gang-Busters 10. Yodellin' 11. Just Like Old Times 12. Journey's End.
Author: Anthony Weightman