Alter-Red / Mechanical Cabaret @ Egg Club
aaamusic | On 12, Dec 2011
London, 9th December
Ok, tonight's show was meant to be at the Purple Turtle and 80's darlings Blue Zoo where meant to play, but due to complete stupidity by the venue they have managed to double book it, so we find ourselves later on in the night at the Egg Club in Kings Cross – Blue Zoo. You'd think this would have put a downer on the evening but it doesn't: everyone has come out tonight to have a good time and a good time they are having with the Cheesy pop antics of resident Stripped DJ Jason Hayselden, putting a smile on everyone's face playing songs such as 'Taste in Men' by Placebo and 'Little Respect' by Erasure.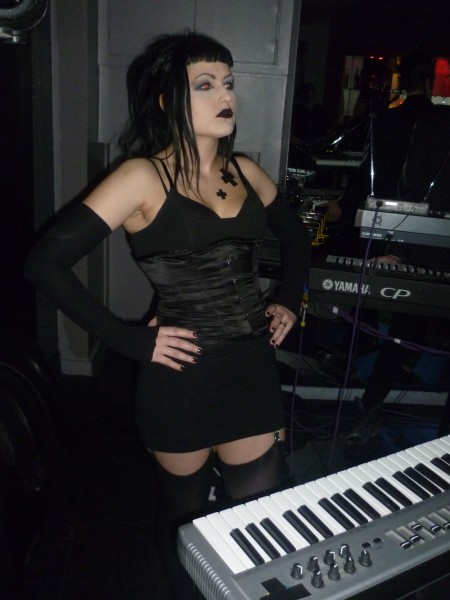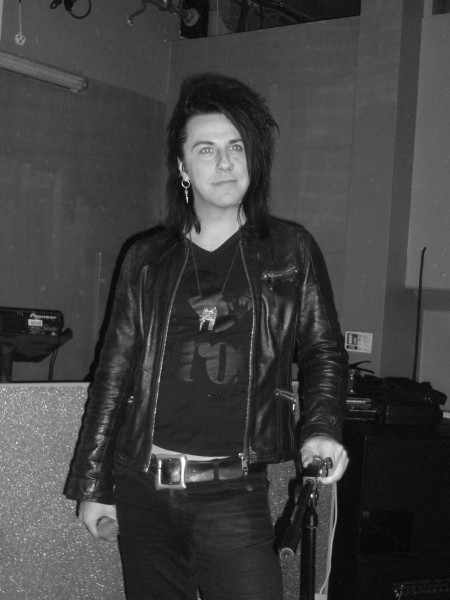 Mechanical Cabaret starts off with technical glimpses' but it just leads to theatrical endeavours by frontman ROi playing up to the crowd. He is on true form tonight, playing through hits 'Blank Canvas and See her Smile' plus other fan favourites while making fun of friends who have come out on the cold night to see him… the Cabaret has been going for quite a few years now and Steve who is playing Keyboard for the band at the moment shows true skill on the keys, looking like he has just won an audition for Ultravox and playing like he is on TOTP. This playful party leads you on to tonight's other headliner Alter-Red, who has turned their sound into a more electronic direction, and sound far more polished than they used to. They are now producing a sound that would compete with the German market very well and would have great chart success there too. Singer Mikey has gone for a blonde bleached look tonight looking like Apop did about ten years ago with also a big red fur coat and Vix Vain has not even bothered to plug her keyboard in tonight with the wires being cut at the front and seems to be going for a shop window mannequin look instead which really works with the image of the band. Their new material has already gotten into the heads of the crowd and everyone is singing the songs like they have known them for years, I would say that this band is one to watch for the future so keep your eyes peeled and they really showed that the show must go on…
It's New Years Eve in London, No it is not actually it's 'Not the New Years!' the day before in Vauxhall and it's time to spend a night with one of London's best up-and-coming bands AlterRed. I arrive in Vauxhall just before 8.00 were the band are about to sound check at London's top fetish club Antichrist. I'm greeted at the door by co-promoter Missy and taken to the room where AlterRed will be playing tonight they have already started their sound check and are running through weird sounds and making sure the levels are ok, well everyone accept Vix who is sitting looking moody on the floor
near the stage, the reason for this is that she has already sound checked well if you call cutting the leads to her keyboard and forgetting to turn it on as a sound check. The Reason for this is that tonight we are going to be treated to a display of Mannequin dancers and she is going to be a human
statue. The sound check finishes at 8.45 and we go for a drink in the backstage area which is near enough just a curtain separating it from the main room. We talk about previous music projects and music we like and listen to and the rare D.U.S.T records that go for a pretty penny now on ebay, we also talk about what our Karaoke songs which Mikey admits his is 'Wild Boys' by Duran Duran. 9.45 and it's time for Mikey to do his make-up and I go with Bass Player Jack and his wife to watch the dancers that are on before the band tonight. Well I say they are dancers they seem to be more like strippers but who needs strippers when most of the girls in the venue tonight have decided to only come in the knickers, I know it's a fetish club but I didn't know when it turned into a Anne Summers party but everyone seems to be having fun which is the main thing. A really nice looking girl in a hostess type uniform tapes us on the shoulder and offers us sweets from a tray so we take some and then realise that also on the tray are condoms and creepy crawleys so we grab a few, I got this plastic spider which is very fitting with our pockets full of goodies we notice the time which is now 11.00 so Jack decides to go and set up for tonight's performance.
11.15 Make Up is applied and the band are line-up near the stage and ready for a photo shoot we take the photos and then it's 11.25 and time for the band to take the stage. Mark Red twists some knobs and the keyboards go into action and the first chords of 'Dollstown' start with the Mannequins coming onto the stage in rhythmic motion. The venue fills up with a lot of people coming down just to see the band tonight and Mikey is on form moving round round the stage like he was born to be there and the new songs are getting some new life to them and their show looks really impressive tonight being across between Cabaret and a scene from the film 'Fifth Element' everyone is having a good time and it's ready for 'Big Ben' as they do the countdown into 'New Years Eve' 5,4,3,2,1 'Happy New Years Eve!!!!!!' an odd idea that kinda works and on my trip home I think a good idea as I didn't have to wait five hours for a bus and I think back on my evening with AlterRed and think about how much I enjoyed the whole Experience.
Setlist
——-
Dollstown
Like April Fools
And we Disappear
Drg named God
Fleshbind
The Patient
NLTV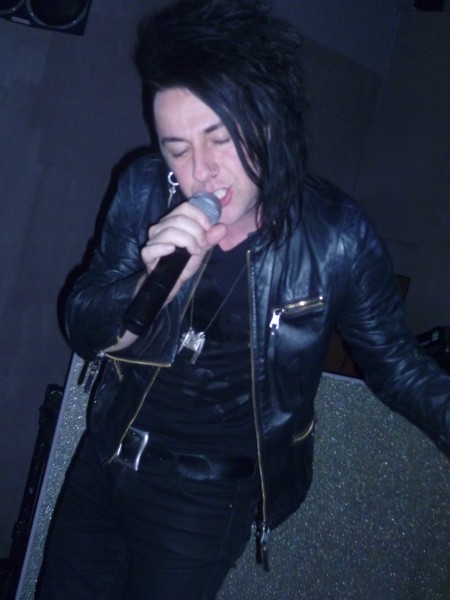 Daniel Spider
Photos: Diego Fernando