Defenders of the Faith III @ Brixton Academy
aaamusic | On 12, Dec 2011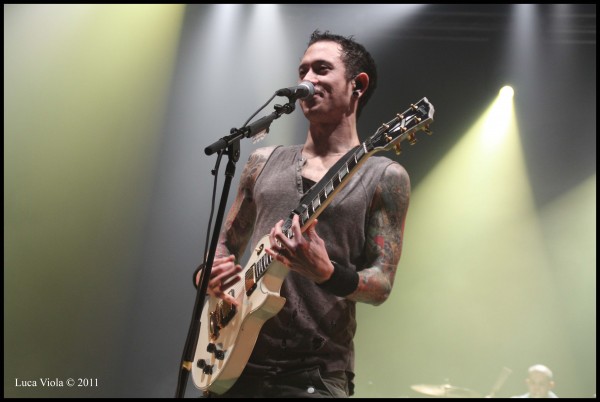 London, 4th December
Rise to Remain
Yes, it's Bruce Dickinson's son and yes he looks like him and yes the man himself is even in the house tonight but they do not sound like Iron Maiden. Austin Dickinson's vocals do not meet up to the high standards of his dad, being out of tune for most of the set, but there is a high standard of
quality songs here and they have one of the best guitarists I have seen for a while who over shines the whole band; but sometimes you have to say what do I know cause the whole crowd is really into it unlike Ghost, who don't seem to have many fans in the crowd tonight other than all the journalists and photographers who seem to be loving this Black Metal super group. Rumour has it that the singer is the son of King Diamond but who knows if that is true; he does sound like the man but he is covered in so much make up and skull face paint that you wouldn't be able to tell who he is, just like the rest of the band, who are all in monks outfits with hoods hiding their faces. But when you do look to see their faces all you see is darkness. The band seem to be joined by a army of monks on-stage
for the first couple of numbers which include ritual chanting the skull faced singer is also dressed in a archbishops outfit with satanic symbols all round it. The band have a sludgy stoner vibe which is mixed with shrieks and soothing vocals which strangely go together and you realise this band are not all gimmicks they have some quite credible songs, which the audience of metal grrr fans don't seem to get, I think Ghost are a specialist subject an acquired taste and I think I have a taste for some more.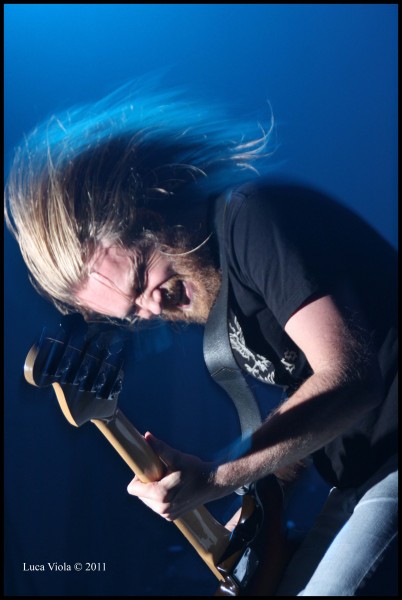 In Flames have changed their sound a lot from their early At the Gates Death Metal sound to a more Nu-Metal commercial sound and apparently it has given them number one success in Germany; but for me the sad lack of any old material lets the band down. They look like they have just given up trying with their appearance as they look like someone has grabbed some homeless people from outside and put them on the stage in front of some giant lamps. In Flames thou are a very polished machine and the sound is loud and doesn't seem to falter anytime throughout the set as they smash songs at you like 'A Quiet Place' which is an anthem in itself. Experience has really done this band well and they seem to be gaining in popularity by the day.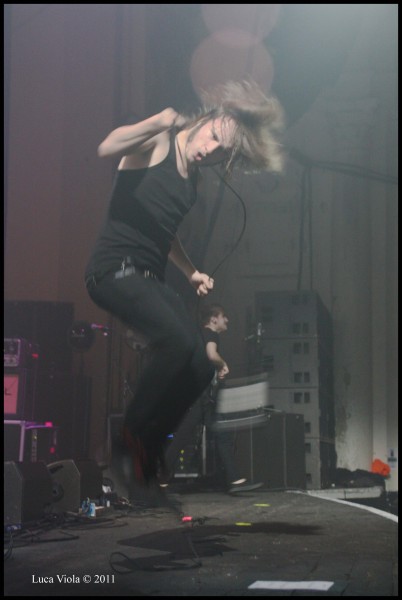 Trivium open with new song In Waves which is so good they can't seem to top it. Their new image seems to work really well and you realise they have a good back catalogue of songs which you seem to hear a lot of in their very long set. There is some nice guitar solos and even a bit of battle play between Matt and one of the guitarists, some of the songs are a little dragged out and you think maybe they could be shortened a little but this band are still not that old and for a band of their age they do seem to have a lot of good material, I think with time Trivium will be headlining Download and maybe even be influencing a few new bands but this time is not now and for now maybe they should have been on a bit earlier on the bill and not headlining because when they finish your
kind of left with the feeling is that all.
Daniel Spider
Photos: Luca Viola