Dead Wolf Club Give Away Free Track 'Radar'
aaamusic | On 06, Jan 2012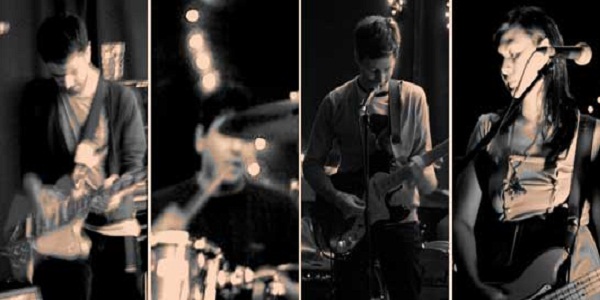 Dead Wolf Club specialise in loudness, quietness, darkness and light.
These 4 sonic teenage tykes met on a plane heading for Paris and hail from Tintagel home of King Arthur and Merlin. Their songs deal with the inner struggle and turmoil of mortality and the fire we need to keep burning in order to survive, mainly through the clashing of a broken down relationship with a cherry 2000 and probing into the schizophrenic mind of Philip K Dick.
Building themselves a reputation as a vitriolic live band, from the debris of smashed guitars Dead Wolf Club rise to present their debut album.
The band draws their bulk of influences from knitting, tea, comics, cardigans, Nintendo consoles and the crumbling city that is London.
The album encapsulates the two years John, Alwin and Martha have known each other and their joint love of pop melodies alongside loud guitars colliding against a punk ethos. Martha, John and Alwin encapsulate, on their record, a perfect pop dynamic that works aggressively against a backdrop of frantic guitars, delay pedals and often delicate yet intricate drumming.
In a time when style and posturing seems more important than the actual art of songwriting, Dead Wolf Club are somewhat attempting to break that trend. We're not sure why they're so angry mind. A lot of that anger points to a dissatisfaction with the an ever disillusioned London, with News at Ten & Not What it Seems somewhat if not wholly influenced by loneliness, longing for goodness and the unfairness and economic struggle that encompasses the western world currently.
Despite their angst, they switch between dark and light at ease and don't allow themselves to get pigeonholed with one sound. And maybe to their detriment, Dead Wolf Club will not pander their sound to anyone or any trend.
Dead Wolf Club – 'Radar' by charmfactory
There main wish for their music to align the planets so that there is World Peace and Order forever.
Catch them at these venues on their debut album tour-
February 2012
1st Lincolnshire Horncastle Old Nicks Tavern
2nd Leicester Lock 42
3rd Doncaster Social Bar
4th Inverness Mad hatter
5th Leeds Brudenell Social Club
6th Coventry Kasbah
7th Manchester Night and Day
8th Bristol Louisanna
9th London Native Tongue, Barbican
11th Southampton Joiners Arms
12th Scotland Kilmarnock Festival