Dear Reader – Idealistic Animals
aaamusic | On 08, Jan 2012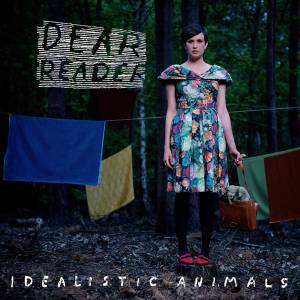 Solitude and loss of faith represent the core of new Dear Reader's album. The sophomore long playing by South African artist Cheri Macneil sounds like a guide on how to cope with pain.
From the departure of bassist and producer Darryl Torr to the unexpected loss of faith in Christianity, Cheri's professional and interior life had a too heavy burden not to emerge through the lyrics of Idealistic Animals.
Every note of the album soaks in abandonment and alienation. From the Cat Power-esque incipit of Fox (Take Your Chances) and its struggling admission with the lyrics 'this is the coming of the Lord, but he's not got to us yet', the nature of Idealistic Animals appears manifest in all its majestic passion.
The buoyant beats of Monkey (You Can Go Home), with their crescendo a la Delgados, have been resounding in our ears from the single's release in late Spring, but are never tiresome. The references to the Scottish band get stronger in Mole (Mole), where echoes of Feist and Regina Spektor start cropping up. Earthworm (All Hail Our Ailing Mother) sounds like an edgy version of Ani Difranco.
Cheri's songwriting has grown up quite a lot respect to her first album, even though the choice of the themes faced in Idealistic Animals results on the long run perplexing, with a gravity that doesn't translate into solemnity but into almost-dullness. Despite this limit, the album is still a goldmine of ideas and stylistic beauty, from the intimate notes of Man (Idealistic Animal) to the precious gorgheggio's of the Beatl-esque Camel (Not Black or White but Camel).
Overall, Idealistic Animals is a very encouraging step for the South African songwriter. Only the future will tell us whether Cheri will be victorious in smoothing those few edges or fall in the trap of her own earnestness.
Lorenzo Coretti