Dear Reader new album, video, plus London show
aaamusic | On 14, Jan 2012
DEAR READER
NEW SINGLE 'MONKEY' OUT JAN 23RD & ACOUSTIC VIDEO
ALBUM 'IDEALISTIC ANIMALS' OUT NOW
(City Slang)
www.dearreadermusic.com – @dearreadermusic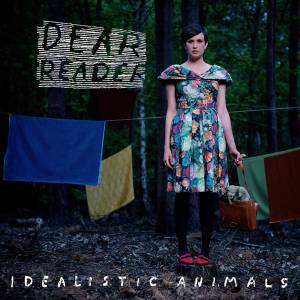 "'Idealistic Animals' is a well-crafted album; combining melancholic melodies with a real message 4/5"  Artrocker
"Elegantly quirky orchestral chamber-pop" Uncut
"Reflective and heartfelt" Music OMH
To celebrate the UK release of 'Idealistic Animals' this week, Dear Reader has announced that the track 'Monkey (You Can Go Home)' will be released on January 23rd. Not only that, a special acoustic performance of the track was filmed for City Slang in Cheri MacNeil's adopted home of Berlin, and you can see it below!
Watch the performance of 'Monkey (You Can Go Home)' here: http://youtu.be/SH22qotAmYc

Set to be released one week after her performance with American songstress and label mate Laura Gibson at The Social in London on January 16th, 'Monkey (You Can Go Home)' continues 'Idealistic Animals' themes of faith and human life by questioning the often tormenting idea of existence (What does it take to be great, is it fate?/What it takes to be great is a tortured state" ) alongside assertive drum beats and a flowing melody.
Following her decision to turn against the faith that had played such a central part in her young life, 28 year-old Cheri MacNeil began to write and record on piano and guitar before including friends and musicians from Calexico's Martin Wenk to her sound engineer's parents to build what would become 'Idealistic Animals'. Following his work on the debut album, the inestimable production skills of Brent Knopf (Ramona Falls, ex‐Menomena) were then called upon, with two weeks spent in Leipzig and mixing in Portland.
You can hear and download the original version of 'Monkey (You Can Go Home)' here: http://soundcloud.com/cityslang/monkey-go-home-now
MONKEY (Go Home Now) by cityslang
Dear Reader will be performing with Laura Gibson at The Social in London on Monday, January 16th