Goapele – Break Of Dawn
aaamusic | On 16, Jan 2012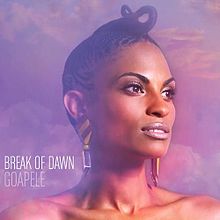 After taking a lengthy six years out of recording, the anticipation for Goapele's latest record is high. The standards of last record, Change It All (2005) were high enough and when Break of Dawn started to play, the newer direction of Goapele's sound is clear from the beginning. Changing direction and releasing more of the sultry sound Goapele is clearly capable of. The entire album mixes the soulful tones of a standard R'n'B record yet she still adds a twist of her own unique standards, combining a Mariah Carey/Beyonce soul sound with something that I can't quite put my finger on. The delicacy and caution of a true soulful voice is there, yet there's more that makes this album individual and a stand out from Goapele's previous releases; it may be the heavier introduction of electronics in there or it might be the new take within lyrics, singing of love, loss and sophistication.
Opener 'Play' is my personal stand-out of the album. A delicate track, that showcases the best of Goapele's voice. Filled with passion and promise as being one of the best tracks on the album. Whereas the album is different and much more diverse than anything else she's done previously to this, each song seems to contain a little bit of the same thing making it lack that inner album diversity and a bit of versatility needed for a come-back album, which this doesn't really feel like. It feels like another album that's been released twelve months after the last one; not one that's taken six years to write, record, produce and get out there.
It's getting to title track 'Break of Dawn' that things change a bit, the involvement of the electronic synths into this album become much more clear throughout this track. It's a track that can been seen remixed and placed into the listing on an R'n'B compilation when the summer season starts. A much more lyrically changed track from the previous three, singing of loss and heartbreak from beginning to end.
Next up, 'Hush' a beautiful lullaby esque track, presumably for Goapele's daughter if the lyrics are anything to go by; carrying the sounds of a fairytale track it's the most beautiful on the album, the most beautiful and heartfelt; a very personal track that sends out another side to the changed sexy and sultry Goapele. It's one side of the coin that seems to complete this album however. It's either fairytale esque, very loving and personal compared to the other side, the faster more upbeat tracks that do belong on the compilation albums of the best tracks. It's the only form of diversity that Goapele offers with this album. It's one of two things.
Following much more 80's felt 'Money' comes the slower 'Pieces' again, this is the flipside of the album; it's either one or the other. It's not entirely as slow and careful as 'Hush', this time it's got a feel of Natasha Bedingfield (Who knows where she is now) with the delicacy shining through in her voice; however it just appears as if everything has been slowed down for a filler track as 'Pieces' is a track that doesn't really offer much compared to the rest of the tracks on the album.
As expected 'Right Here' follows, a much more increased tempo and upbeat track. The only issue I have with this track is the almost uncoordination between vocals and the synths. They just don't match each other, again it seems like 'Right Here' is another track to fill up the gaps in the album which is a shame because the album does present so much potential that is let down by the use of filler songs that don't really need to be there- I'm sure that in six years, Goapele could have written something more heartfelt and fitting for album that could present such high standards.
Elly Rewcastle