James Deane – Diamonds & Hearts
aaamusic | On 16, Jan 2012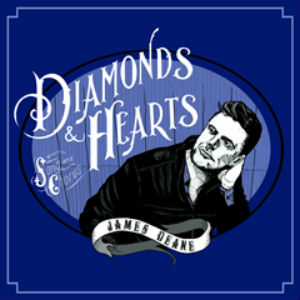 Debut full length album Diamonds and Hearts is a one that presents a collection of carefully constructed love songs, teamed well with the use of Deane's guitar playing experience that completely defines the creation and listening experience of the album all together. The album, composed with careful intentions in mind, is driven along expertly by the delicate vocals of Deane that feel like he's done albums like this so many times before.
Opening title track, Diamonds and Hearts, is reminiscent of the vocals belonging to five time Grammy award winning American singer songwriter Michael MacDonald of 'The Doobie Brothers'.
Following tracks, told clearly of love, comes 'Whole Heart Blue', a mix of traditional folk and country tones and a surprising R'n'B influence, shown also specifically well on 'Nobody Knows You (Like I Do), a very 70's blues rock track and the stand out of the album.
Debating between the choice of the occasional used brass section that intervenes within some of the album and the perhaps should have use of strings add a pleasing warmth and drive to album as they play alongside Deane's smooth and confident guitar playing. The co-writing between Deane and guitarist Jason Andrew's is an evident different on the tracks 'Reflection', 'Midnight Train' and another stand out 'Seventeen'.
Closing track 'Strange Emotion', is totally different from the rest of the album; Deane's acoustic guitar alongside melancholy piano create the framing around a beautifully carried out track that snapshot the world of Deane as a travelling musician. It closes the album well and leaves a lot of room for imagination of the next album.
Diamonds and Hearts is a strong debut for Deane, hopefully he can keep the standards on the follow up, whenever that may appear.
Elly Rewcastle