JAMES LEVY AND THE BLOOD RED ROSE – Pray To Be Free Feat. Allison Pierce
aaamusic | On 28, Jan 2012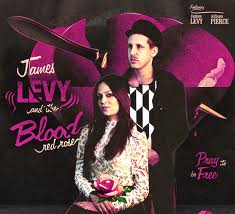 James Levy is a Brooklyn traditional rock 'n' roll singer songwriter with a classic feel which remains contemporary. He duets with his long time friend Allison Pierce of The Pierces. In style he's a little like Leonard Cohen and Bob Dylan.
Pray To Be Free, his debut album, is released on Heavenly Recordings on February 6th, 2012. It's produced by Coldplay's Guy Berryman and recreates a beautiful, knowing quality similar to the chemistry of Lee Hazlewood and Nancy Sinatra.
James says, "I tend to write about death and relationships, and the death of relationships, but I cannot tell you why." Sneak Into My Room is a 21st century adultery fable about betrayal and the solo Bums In Love proves deeper and more moving than the title suggests.
With a touch of folk, big band and country, this is a gorgeous, playful and pleasantly romantic album. The duets are intensely charged and moving. A deep growl from James Levy contrasts and yet perfectly entwines with the fresh honeyed voice of Allison Pierce. The album is simple, divine, timeless and richly satisfying.
Tracklist: 1. Sneak Into My Room 2. Give Me Happiness 3. Crying To The River 4. Hung To Dry 5. Pray To Be Free 6. Holy Water 7. Keep My Baby 8. Positively Easy Broadway 9. Painted Red 10. Crying Myself To Sleep 11. Bums In Love 12. Precious Age of 13.
Anthony Weightman