Shhh – all-dayer in Bethnal Green
aaamusic | On 29, Jan 2012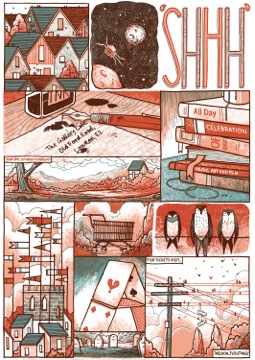 SHHH, A CELEBRATION OF QUIET MUSIC, ART AND FILM
THE GALLERY CAFÉ, BETHNAL GREEN
London promotion and management agency The Local in association with The Line of Best Fit presents Shhh, a celebration of quiet music, art and film. This year's performers include Tiny Ruins, Tom Rogerson of Three Trapped Tigers, Mirel Wagner, Tarantula Waltz, Felix, The Singing Adams, Anna Meredith, Rob St John, Leah Kardos, Hyperpotamus, Dog Ears, Fierce And The Dead, Alex Haynes, Stranded Horse and Our Feathered Embers.
Alongside hand screenprinted posters for this and previous Shhh events, Gallery Cafe will also play host to a series of artworks which engage with the idea of quietness. These will include improvised scores over silent films, audio sculptures, performances and documentary. Artists exhibiting include Stuart Bannister & Stevie Dickie, Patrick Coyle, Rita Evans, Luke Drozd, Claire McArdle and R.L.Wilson. 
Shhh will be held at The Gallery, a unique Vegetarian and Vegan cafe situated near the Museum of Childhood and Museum gardens in Bethnal Green. The cafe provides wonderful value for money food, the best coffee for miles around and an airy environment with windows looking out onto a beautiful English garden.
Performers at Shhh:
Alex Haynes http://www.alexhaynesmusic.com
Anna Meredith http://www.annameredith.com
Dad Rocks! http://dadrocks.tumblr.com
Dog Ears http://dogears.org
Eyes And No Eyes http://eyesandnoeyes.blogspot.com
Felix http://www.myspace.com/mybeautifulfelix
Fierce and the Dead http://www.fierceandthedead.com
Hyperpotamus http://hyperpotamus.com
Leah Kardos http://www.leahkardos.com
Mirel Wagner http://www.myspace.com/mirelwagner
Our Feathered Embers http://ourfeatheredembers.com
Rob St John http://robstjohn.tumblr.com
Stranded Horse http://www.myspace.com/theestrandedhorse
The Singing Adams (solo set) http://www.singingadams.com
The Tarantula Waltz http://www.myspace.com/tarantulaband
Tiny Ruins http://www.myspace.com/tinyruins
Tom Rogerson(Three Trapped Tigers) http://threetrappedtigers.believeband.com
Details:
Event: Shhh
Venue: The Gallery Cafe
St. Margaret's House
21 Old Ford Rd, E2 9PL
Tel: 020 8980 2092
Date: Saturday 4th February 2012
Time: 3pm – 11pm
Tickets: Limited early bird tickets £7.50 available at http://www.thelocal.tv