SCHOLARS New Single 'Bad For Business' set for release 27th February, 2012 UK dates from this week
aaamusic | On 16, Feb 2012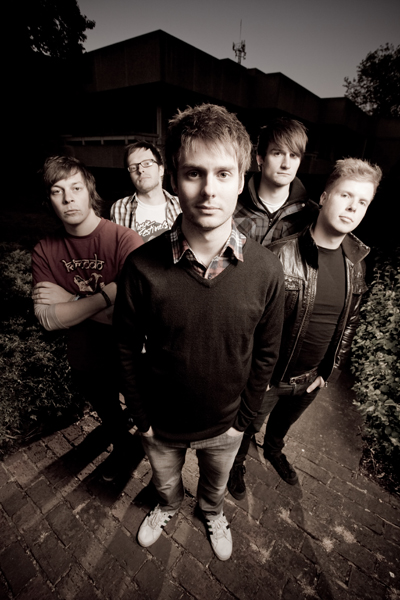 SCHOLARS will release new single 'Bad For Business' on 27th February, 2012. The track is a word to the covetous, the dishonest and the cold-blooded amongst the powerful few who influence the lives of many. The song is written from the perspective of the base-rate employee at the bottom of the food chain and (with tongue firmly jammed in cheek) seeks to express the frustration we all feel when we're taken for granted.
The music video for this new single was directed by Scott Peters and involved the purchase, assembly, destruction and recycling of 100 cardboard boxes. It was filmed at the Old Town Hall in Hemel Hempstead, more commonly used as a location for such cosy Sunday evening dramas as Midsomer Murders and Pie in the Sky.
Having spent their formative years listening to bands like Braid, Hundred Reasons, The Dismemberment Plan, The Faint and Tears for Fears, Scholars certainly have influences. However, the band have honed a sound that is unmistakably Scholars.
After several UK tours in 2011 which included shows with letlive., The Computers, Young Guns, Spycatcher, And So I Watch You From Afar, Francesqa, The Xcerts, Max Raptor and Gay For Johnny Depp amongst others, Scholars are once again hitting the road in February in support of the new single. The band have been building their reputation through these tireless stretches of touring. Josh Franceschi of You Me At Six noted that they're his "favourite band in the UK right now, period" in Kerrang! Magazine. Fiercely perfectionist, possessed of a dogged work ethic and determined to avoid the mediocre, for Scholars nothing is more important than the songs.
LIVE DATES
FEBRUARY 2012
Thur 9th STEVENAGE Red Lion (18+)
Fri 10th HARLOW The Square (16+, all ages with an 18+)
Sat 11th BIRMINGHAM The Flapper (18+)
Sun 12th NOTTINGHAM Maze (16+)
Mon 13th HARTLEPOOL 3 Lions Sports Bar (14+)
Tue 14th DUNFERMLINE PJ Molloy's (16+)
Wed 15th YORK Stereo (16+)
Thur 16th SOUTHAMPTON Avondale House (18+)
Fri 17th BARNSTAPLE Factory (16+)
Sat 18th BRIDGWATER Cherries (18+)
Sun 19th TUNBRIDGE WELLS Forum (16+)
Mon 20th STOKE Minister's Bar (14+)
Tue 21st MANCHESTER Dry Bar (14+)
Wed 22nd NORWICH Karma Kafe (18+)
Thur 23rd BRISTOL The Thekla (18+)
Fri 24th LEICESTER SoundHouse (16+)
Sat 25th BASINGSTOKE Sanctuary (18+)