Sharliza Jelita – Claustrophobia
aaamusic | On 19, Feb 2012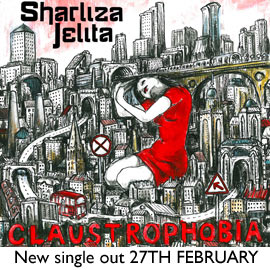 Is Sharliza Jelita irritating or damn-right brilliant? Please help me. I need to know. The Singaporean electro-pop singer-songwriter's new single 'Claustrophobia' is exceedingly infectious, but I can't decide whether that's because it is pleasantly catchy or violently virulent.
Sharliza Jelita moved to the UK thanks to our attractive musical legacy, and before beginning work on her debut solo album – 'Strange Things', to be released imminently – she fronted a band called The Rrrs (as Sharliza Moog), as well as played guitar in Death Metal Disco Scene. 'Claustrophobia' is the third single from this upcoming record, and it's a slice of breezy and dancey synth-pop. The musical comparisons to Hot Chip have already been heavily covered by every prior review of Sharliza, but that's because the lightweight electro and quirky synths of Hot Chip are an obvious reference point. The off-kilter synths of the chorus actually sound a little more like (first album) Metronomy, and the quick-fire drum machine sound amateur compared to Hot Chip – coming across more like commercial RnB.
Now, why did I start this review by contemplating whether Sharliza Jelita is irritating or brilliant? It comes down the vocals of this new single. The chorus is essentially the words "I wanna leave right now" repeated rapidly, over and over again. Jelita's voice is distinctive, but distinctive in the sort of way that is going to polarise people – it's whiney and possibly semi-auto tuned, but it's also what makes her so unique, and there's no denying that she can write a melody. Sometimes I listen to 'Claustrophobia' and love its fun and eccentricity, especially the naïve lyrical concept of being stuck in a repetitive and lonely life. Sometimes I listen to it and the childlike, Gwen Stefani-esque lyrics coupled with the gimmicky Nintendo Gameboy bleeps make me want to find and destroy any child's teddy bear, and stuff the dismembered parts of the teddy carcass into my ears to block out all sound, forever and forever…
In short, if you like bands like Hot Chip, Metronomy, CSS, and Friendly Fires, you will find something appealing in the music, but since I can't even decide whether or not I like the vocals (and can't work out whether or not I've gone slightly insane) you're going to have to brave Sharliza Jelita's singing yourself (and report back to me…).
Clive Rozario