Totem Bells – Twelve Clay Feet
aaamusic | On 19, Feb 2012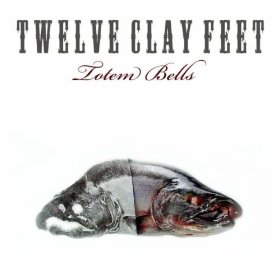 There was a ghost of a half-remembered song bothering me when listening to Twelve Clay Feet. Something that recalls tired nights at Shoreditch's infamous Old Blue Last in a haze of the buzzing that exam revision leaves in your head, melancholy and teen angst and listening to a mix of classic songs and new strangeness, which pretty much sums up 'Totem Bells', as it holds an almost esoteric slipperiness but is saved from inaccessible aloofness by a mix of emotional honesty and a mastery of the melodic embrace of quality pop.
For all the trancelike weirdness of songs like the mesmeric 'Sour Rum', with its Pink Floyd slowness and introspective melodicism and poetic lyrics, or the tremolo-and-reverb tone bending of 'Mutant Fingers', there's an undertone of solid bluesy rock. The songwriting might have a lofty, expansive quality, but it's one that's grounded in remembering how to make a track welcoming to listeners. Their poppiest might be the radio-ready yet earnest 'Still Life', which is deceptively close to recent indie rock hits in its style, with an almost Britpop guitar jangle and sunny melody that slides behind a multi-tracked vocal that's at once bittersweet yet inviting with balladesque yet poetic lyrics. But for every delicate haze of distortion or tender pop song turned "alternative", there's something like the brooding album opener 'Cornfed', which blends a psychedelic 60s guitar melody with a stomping percussion lifted from the archives of Led Zeppelin and a bassline that swirls with the brooding gloomy grunge of Soundgarden, and the haunting vocals that evoke that musical sense of déjà entendu, although not in a derogatory way. In fact, it makes for a great album opener that ensnares the listener, as so many different threads are there to unravel and subsequently get tangled up in. Another deceptively dark number is 'Battles', which again evokes the jangling guitars, but mixed with a gloomy bassline that in both melody and sound brings to mind the gothic post-punk of the 80s, and which fits the bleakness of the song as a whole. Their psychedelic side merges with the heavy here, and even more so on the aforementioned 'Mutant Fingers', as a steady rock drum beat matches up to the trippy guitars, and again the bass fills in the gaps with something that's equal parts jazz and rock n roll.
There's other grunge echoes too as other quieter tracks hold the ghost of more mellow bands such as Temple Of The Dog on 'Give Yourself Away', where the prog rock leanings are given a gentle pouring into the four-and-a-half-minute rock song, splicing in missing elements from classic rock. There's enough room for the gently reverb-caressed guitar to breathe, as the bass and drums fill in a heavier space in the song that allows powerful blues influenced rock vocals to sound heartfelt and expressive without sounding over the top. To finish off, we have the stomping rhythms and heavy moodiness of American blues style closer 'Red Moon', which throws one last curveball into the mix, as I don't think something this sneering and raw was what I'd expected from these guys as a
the last word from their opening chapter.
But how to explain Twelve Clay Feet? Some of me is saying that it's like Stone Temple Pilots if they had the cock rock confiscated and replaced by Brian Fallon of The Gaslight Anthem in all his hoarse and emotive vocals, and some of me wants to jump on the Pink Floyd/Led Zeppelin comparisons in the press release, but there's so much else going on, from echoes of the Psychedelic Furs (and indeed Bulter's side-project Love Spit Love) in their haunting, evocative and artful take on everything from rock to post punk to pop and back again. But they also encompass the modern psych-rock of Black Mountain in a vein approaching a slightly heavier, and more overtly new age 'Wildnerness Heart' that is also oddly British in its influences. So really, Twelve Clay Feet take a bit of everything and push it into something that is without a doubt their own take on music. It's not smashing boundaries, but it's blurring and bending plenty, and doing so with songs that are earnest, approachable, and just really quite good. "Crossover appeal" might imply a band ready to sell out, but really I think these guys could find themselves in the big adoring limelight with next to no compromise.
Katie H-Halinski