VAN MORRISON TO HEADLINE JERSEY FOLKLORE FESTIVAL
aaamusic | On 23, Feb 2012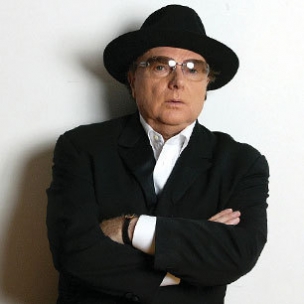 JERSEY FOLKLORE FESTIVAL
Jersey's newest music festival confirms its first headliner, 6 times Grammy Award winner
VAN MORRISON
FOLKLORE is the latest addition to Jersey's event calendar, and plans are now well underway for a festival that will be unlike anything ever staged on the Island. With a capacity of just 5,000 attendees per day, alternative live music, comedy, theatre, poetry and film will take place across two stages at Peoples Park in Jersey on the weekend of June 30th and July 1st.
Following the recent announcement that 3- times Grammy-nominated artist Joan Armatrading will perform at the inaugural festival, the organisers are pleased to announce that they have confirmed the first of Folklore's two Main Stage headliners. Topping the bill on Saturday 30th June is one of pop's most legendary performers, Northern Irish singer-songwriter Van Morrison.
The winner of six Grammy Awards and an inductee to both the Rock & Roll Hall of Fame and the Songwriters Hall of Fame, Van Morrison OBE (real name George Ivan Morrison) is without doubt one of rock n' roll's most enduringly loved songwriters, with hits such as the immortal 'Brown Eyed Girl', 'Sweet Thing', 'Domino' and 'Madame George', an integral part of the soundtrack to the 60's and 70's. Having recorded a mammoth 33 studio albums since his debut in 1967 (including 1968's seminal Astral Weeks, considered his masterpiece), he's one of the most prolific recording artists of all time. As well as the aforementioned Grammy Awards, he has also picked up a Brit Award for Outstanding Contribution to British Music (1994), an Ivor Novello, a place on the Hollywood Walk of Fame, and was ranked 24th in Rolling Stone's magazine's 2008 list of 100 Greatest Singers of All Time.' In 2002, he was even bestowed with the honour of being featured on an Irish postal stamp. In short, he has the full package: a back catalogue matched by few, accolades matched by even fewer, and critical and commercial successes in equal abundance.
Van Morrison Biography
Early life:
Born in Belfast in 1945, George Ivan Morrison grew up listening to artists such as Ray Charles, Lead Belly and Solomon Burke, as well as being exposed to the blues of Muddy Waters, the jazz of Charlie Parker, the folk music of Woody Guthrie and the country music of Hank Williams. After being given his first guitar by his father, at the age of eleven, Morrison formed his first band, a skiffle group called The Sputniks, at the age of twelve and the seeds had been sown for a glittering career ahead. After touring with several other bands in his late teens, he formed Them, the band that truly launched his career.
Them, and the launch of Morrison's solo career:
Mainstream success came on both sides of the Atlantic for Them with hit singles 'Here Comes The Night', 'Mystic Eyes' and 'Baby Please Don't Go', whose B-side 'Gloria' went on to become a garage rock standard covered by the likes of Jimi Hendrix, The Doors and Patti Smith. After the band split in 1966, Van Morrison signed with Bang Records and set to work recording his 1967 debut solo album Blowin' Your Mind, which would feature the classic 'Brown Eyed Girl' – forty years later and the track is still the fourth most requested song of DJs in the United States. In 1968, the artist blended blues, jazz, folk, classical music and Celtic influences to create the high-concept Astral Weeks album, voted number 2 in a 1995 Mojo magazine poll of the Greatest Albums of All Time. Despite its huge critical acclaim, it was only a modest commercial success, only finally reaching Gold Disc status in 2001. It wasn't until his 1970 follow-up, Moondance, that he achieved his first million-selling album. Fast forward to 2012, 7 Gold-selling albums, 7 Silver-selling albums, and one 3 x Multi Platinum-selling album later, with countless stadium world tours in between, and Van Morrison is rightly revered as one of rock n' roll's finest.
****************
An elusive character, often considered introverted, reclusive even, he's let his music do the talking over the years, and with one of the most distinctive singing voices (one which led influential American critic Greil Marcus to say "Morrison may have the richest and most expressive voice pop music has produced since Elvis Presley"), he's an artist in the truest sense of the word.
With such a long and illustrious career to boast of, it's with the utmost pride that Folklore welcomes Van Morrison to Jersey to headline our very first festival.
As well as the Main Stage featuring live music from headliner Van Morrison, Joan Armatrading and many others, the festival will also feature:
• Second Stage – Comedy, acoustic acts, theatre, film, poetry, literature.
• Arts & Crafts.
• Organic Food Village.
• Holistic Village.
• Kids Creative Playground.
Quotes:
Warren Holt, Director
"We feel truly honored to be hosting Van Morrison for the launch of Folklore. To have booked not just one of the most prolific international artists ever, but someone with such a huge repertoire of classic rock and roll songs to headline the Saturday night of the festival, is a major coup for Folklore and for the Island. Personally, I can't wait for the moment to hear 5,000 happy festival attendees singing along to 'Brown Eyed Girl', 'Moondance' or 'Gloria'; the list is endless. It will be a once in a lifetime moment for everyone there, an historical occasion and something that they will remember for the rest of their lives."
Warren Le Sueur, Director
"With two legends in Van Morrison and Joan Armatrading already booked to perform, we envisage Folklore becoming an important new festival internationally. We expect a considerable number of attendees to travel from Guernsey, the UK and France – creating an important event-led tourism opportunity for the Island, at a key time when the Island needs to develop new economic activity. We will be making further exciting line up and event announcements shortly – watch this space!"
FOLKLORE is scheduled to take place on Saturday 30th June – Sunday 1st July
Ticket prices, outlets and release date to be announced shortly.
Subject to the organisers gaining the Bailiffs permission