Cold in Berlin – …and The Darkness Bangs / The Lie
aaamusic | On 26, Feb 2012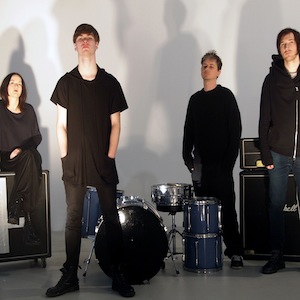 Recorded in a former mental hospital in South East London, backing onto a cemetery and woods, the single has a dark, eerie and gothic feel to it. Both musically and vocally, Cold in Berlin offer a sound reminiscent of the brilliant Siouxsie Sioux and other lost loves from the post-punk era. Yet despite the influence of classical greats, Cold in Berlin present a sound which is distinctly their own and up to date. As timeless as Siouxsie and the Banshees. Whoever said Goth is dead better wake up.
'And the darkness bangs inside of me…Loud is the wolf that howls in the heart of me…'
The lyrics of Cold in Berlin are filled with beautiful imagery, which really fits the atmosphere where the single was recorded. They manage to sound wonderfully gothic without seeming clichéd or outdated, a feat which is more difficult than it appears.
While '…and the Darkness Bangs' is eerily beautiful and evocative, a trip back to Siouxsie's Juju, 'The Lie' shows a harsher and more in your face catchiness, with a scratching guitar and angrier vocals being more present. 'I hate your fucking MTV, your politicians lied to me…' The Lie is more an exploration of the harshness of modern-day reality. Brilliantly up to date and quite relatable. While in '…and the Darkness Bangs' the focus is more percussion and vocal based, which brings an effect of pure dark beauty.
Overall, you'd be insane to miss Cold in Berlin, they're as precious as a chunk of Obsidian gemstone and every bit as sinisterly stunning. They're having a free gig in Shoreditch to launch this single on the 9th of March at the Old Blue Last. Be sure to go, I know I will be after hearing this. This is not to be missed, and yes I did say it was free!
http://www.coldinberlin.com – Be sure to check out their website for more information.
Rose Benge