Scholars – Bad for Business
aaamusic | On 26, Feb 2012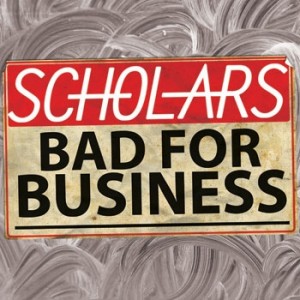 Scholars are an Indie-rock quartet, hailing from Hemel Hempstead in quiet, hoary Hertfordshire and are here to liven the place up a bit. And with their catchy, upbeat, half-singing, half-shouting attitude they just might make it. Despite the rather angry sound to the single, Scholars still manage to sound tuneful and catchy, which can be a difficult feat to conquer. The band filmed the video for Bad for Business at the Old Town Hall in Hemel Hempstead in local spirit, surrounded by many, many cardboard boxes.  Intensely likeable, the song has a sing-along quality to it which will have you chanting along with them in no time. I hear the destruction of cardboard boxes is a good way to get out any angst you may have left over. Don't believe me? (Check out the video – http://www.youtube.com/watch?v=HB0sI3GcVa4)
The song is from the perspective of being an employee at the bottom of a food chain and expresses the frustration we all feel when taken for granted.
'I have no face, I have no name. I will never be your money. My sweat and blood's not your champagne. I will never be your money.'
Scholars manage to mix the angsty with the catchy to produce some lyrics which are both very relatable and will have you jumping up and down, singing and shouting your lungs out. With its garage guitar sounds and powerful base and drums, Scholars produce an anthem which is both interesting to the listener, but also sounded incredibly fun to perform and record. And they also really show that you don't need to be signed to a major record label to produce something that sounds professional, well recorded, well mixed and downright great.
http://www.scholarstheband.com/ – Check out Scholar's website, which includes a list of tour dates.
Rose Benge