Skint & Demoralised – This Sporting Life
aaamusic | On 27, Feb 2012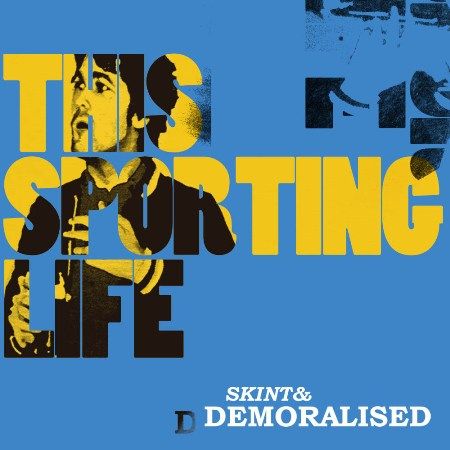 I have no idea what's going on with indie group Skint & Demoralised. Their release history is just so damn confusing that I don't even know how to begin this review. I'm going to do my best to sum it up…right…now.
Skint & Demoralised formed when poet Matt Abbott (from West Yorkshire) began working with songwriter/producer MiNI dOG (from South Yorkshire). They were snapped up by Mercury (part of Universal Music Group), created lots of hype, and made a debut album – 'Love And Other Catastrophes' – which leaked months in advance. As a result, that debut was never officially released, and the band and record company parted ways. Then, I think, Skint & Demoralised broke up, got back together, made a second album – 'This Sporting Life' – and released it last year through Heist Or Hit with their debut packaged in as a bonus. So, their second album was their first officially released album, so could be considered their debut, but their actual debut album was released alongside it. And now they are releasing…wait…'This Sporting Life'…again. So it's a re-release? Which doesn't come with the other album, which I think was also re-leased on vinyl at some point. Breathe and/or sigh.
Anyway, 'This Sporting Life' is a British indie gem, and that's all that really matters. The production is a lot more lo-fi when compared to 'Love And Other Catastrophes' (which was made by a big record company after all), and makes it all the more charming. This band is, essentially, a vehicle for Matt Abbott's indie poetry (the band's early songs were built around his existing poems), and he delivers his fictional and non-fictional words about England, love, youth, and politics with sweetness and sincerity. His vocal style has progressed from simple spoken-word to Pete Doherty-esque, melodic mumbling, retaining his lovely regional accent. Some of the vocals, such as on 'Voluntary Confinement', recall Sam Duckworth (of Get Cape. Wear Cape. Fly), and much of the vocals are delivered as Jamie T does: through talking.
Musically, Skint & Demoralised keep it simple. There is sunny folk-punk, such as 'Hogmanay Heroes' and single 'The Lonely Hearts Of England', which doesn't sound a million miles away from The King Blues. There is jangly indie-rock such as 'All The Rest Is Propaganda' and '43 Degrees', which comes across a little like The Libertines. There are also Morrissey moments, such as on the slower numbers like 'Fireworks'. The highlight is the closer – 'Lowlife' – which descends into splashy and intense post-punk , and features the album's best guitar parts.
Skint & Demoralised have had a turbulent start to their career, suffering the worst elements of our current musical climate: piracy and record label fickleness. It is bands like this that suffer most from illegal file sharing; the young bands that are tripped up before they even reach the playing field. They have lost the initial buzz that surrounded them when they first emerged, and they may struggle to get the exposure they desire and deserve. But 'This Sporting Life' is a revelation, and the kind of indie record that could be considered as a milestone masterpiece – like the debuts from Arctic Monkeys and The Libertines – if it could only reach enough ears. Abbott is genuinely the best indie lyricist to surface in recent years.
Clive Rozario