Topman CTRL Returns for 2012
aaamusic | On 27, Feb 2012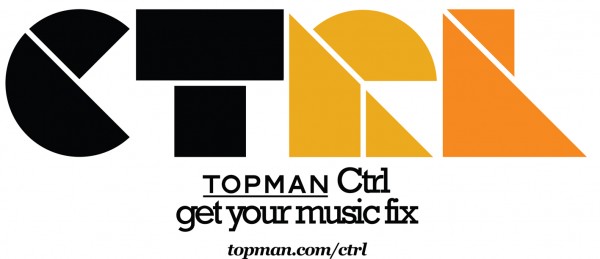 GET YOUR MUSIC FIX
 TOPMAN CTRL IS BACK FOR 2012
WITH HUW STEPHENS AT THE HELM
WHEN TWO BECOME THREE…
MARCH'S GUEST CONTROLLERS THE 2 BEARS
JOIN HUW STEPHENS
PLUS EXCLUSIVE FREE DOWNLOAD
 'HEART OF THE CONGOS'
REMIXED BY GROVESNOR
FOLLOW THE FEED  
#TopmanCTRL
Topman CTRL is back for 2012 with a brand new mission bringing YOU great music from the web & beyond. Each month Huw Stephens will be choosing a Guest Controller to join him at the helm, to guide you through the best music out there. Together they will be the eyes and ears, hand picking what's hot and leaving no stone unturned in their quest to meet your musical needs. You'll find it all at the 'feed' so check out the all new www.topman.com/ctrl to see what's happening.
Topman CTRL 'feed' is a rolling source of the best music from across the globe. Join Huw and his Guest Controllers as all their favourite content is put together into the feed for anyone & everyone to see and hear – along with some of your top suggestions. You can share what's making you tick – if you like it, tell Huw! #TopmanCTRL. On top of searching the four corners of the earth for all those musical gems there'll be CTRL live sessions, off the wall interview clips, blog recommendations and enough surprises to shake a stick at.
Kicking things off in March, The 2 Bears become three as they join Huw to curate, select and point you in the direction of what's new, hot and happening in the world of music. Guest Controllers, Raf Rundell and Joe Goddard, aka The 2 Bears critically acclaimed debut album Be Strong is a heady brew of up-tempo, catchy house tunes and sparkling electro-pop songs. As well as pulling loads of great content out of a hat, find out what makes The 2 Bears tick as they submit their own videos, posts and updates to give you an insight into life in the woods! Keep an eye on the feed @ www.topman.com/ctrl, because if anyone knows a thing or two about music, it's these guys.
Huw Stephens said: "This year, the challenge was to find a way to shine a light on music across the whole year. So gathering a few like minded chums and some clever digital people, we've come up with a different way of informing you all about what amazing music is out there on the web and beyond. If that wasn't enough, we'll also be creating some very exciting content for you to see and hear featuring some of our fave artists around right now. So keep your eyes peeled, your ears primed, your tweeting thumbs nimble and your cursors clicking so you can get your music fix at Topman CTRL…Me. I can't wait!"
To celebrate The 2 Bears hooking up with Huw Stephens & Topman CTRL to be the first Guest Controllers for 2012, the boys have given us an exclusive remix of their track 'Heart Of The Congos' by the groove master that is Grovesnor available to download absolutely FREE from www.topman.com/ctrl. Grovesnor, aka Rob Smoughton, a one-man band and veritable musical titan, takes one of the stand out tracks from the Bears Top 40 charting album 'Be Strong' and warps it from melancholy, stuttering dub into a blinding deep house belter that's destined to ignite any dance floor. Deep and very very strong. Huw loves it. We hope you do too.
The 2 Bears said: "We are delighted to be Guest (fat) Controllers for the first month on Topman CTRL.  We've been badgering Huw Stephens to spend the entire creative budget on "Be Strong On Ice" a reinterpretation of our album through the medium of ice skating. Not sure he's up for it though. That's what we got in to this for. We want Torville & Dean to play The 2 Bears. If that's not going to run then we're off back to the woods for another couple of months hibernation.  In the mean time, our mission (CTRL) will be to point you in the direction of what we think is hot in the world of music."
So, what are you waiting for? Go to www.topman.com/ctrl and discover what's hot, what's new and what's in store for 2012 #TopmanCTRL.